Aw man you missed the deal!
FILL YOUR HOME WITH GOD'S WORD!
Battling Anxiety made simple with these printable scripture cards!
BUY NOW FOR ONLY $10!
Would you like to:
Battle your anxiety with the word of God?
Have scripture ready for when you feel anxious?
Brighten up your life and home with Bible verses?
What You'll Get
15 Beautiful 4×6 Printable Scripture Cards
Each card has it's own design which makes them all unique! 
All cards focus on replacing anxiety with peace!
So many options to choose from!
These cards are perfect for memorization, bible journaling, gifts, scrapbooking, bookmarks, gift tags, and much more!
All the Verses included in the Pack:
1 Peter 5:6-7
2 Thessalonians 3:16
Colossians 3:15
Hebrews 13:6
John 14:27
Mathew 6:25-26
Matthew 11:28
Phillipians 4:6
Philippians 4:6
Proverbs 3:5-6
Psalm 34:4
Psalm 55:22
Psalm 56: 3-4
Romans 8:38-39
Psalm 23:4
BUY NOW FOR ONLY $10!
display anywhere you need a reminder of god's word!
"Thank you so much for these cards. They are a "labor of love". They will be used in many ways. One of my favorites it to give them as framed gifts. Thank you again for your efforts on behalf of spreading the love of Jesus."
-Joyce M.-
Surround yourself with God's word!
Start replacing your anxiety with peace today!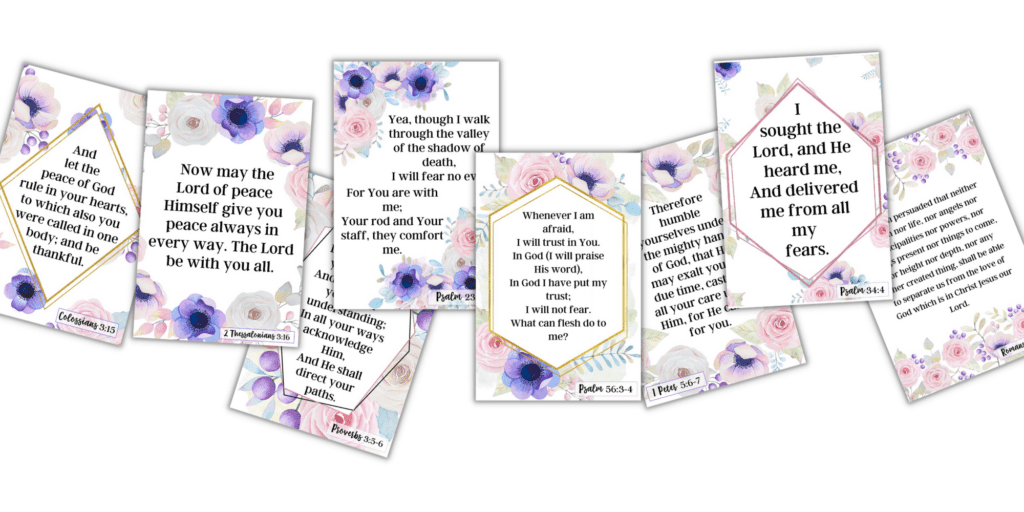 BUY NOW FOR ONLY $10!
© 2023| MommiFromScratch| All Rights Reserved | Home | Privacy Policy |