Super Easy 3 Step Pumpkin Play Dough (Pumpkin Spice Playdough)
AMAZON AFFILIATE PROGRAM
MomminFromScratch is a participant in the Amazon Services LLC Associates Program along with other affiliate advertising programs designed to provide a means for sites to earn advertising fees by putting links to companies in my blog posts.
This Pumpkin Play Dough is the easiest to make in just 3 steps! Your kids will love this homemade playdough with a pumpkin spice scent perfect for sensory!
Is fall even fall if it doesn't smell like pumpkin? This Pumpkin Play Dough will entertain your children AND smell amazing while they're playing with it!
My children are obsessed with play dough…they'll play with it for hours and want me to pull it out for days and days in a row.
So why not ring in the season of fall with two of our favorite things? Play dough and the amazing smell of pumpkin. It's simple to make and the children can have fun doing a fun sensory activity while filling the house with a sweet aroma!
My Favorite Play Dough Tips:
You can always double the recipe and make more!
With more play dough comes with more mess! Pull out a disposable table cloth and cover your table to catch all the small pieces.
My kids always seem to drop little pieces on the floor, I let them dry up for a few hours and then they are easy to sweep up!
If you don't have playdough accessories, use cookie cutters and your kitchen rolling pins!
Use a play mat to contain the mess:
11/27/2023 02:33 pm GMT
Why Kids Love Pumpkin Pie Scented Playdough
Play dough provides great sensory input through feel and smell. This pumpkin pie scented play dough takes sensory play to another level with its delicious fall scent!
Kids love kneading, rolling, and squishing play dough. It's great for strengthening fine motor skills and hand-eye coordination. Making play dough engages multiple senses at once.
The feel of the soft and squishy dough in little hands is so satisfying. As they knead the dough, kids are rewarded with the amazing scent of pumpkin pie spice.
You'll find kids of all ages gravitating to this play dough to squeeze and smoosh it simply due to the enticing fall scent. It's such a fun hands-on experience kids will love!
Benefits of Pumpkin Playdough
In addition to loads of sensory fun, playing with homemade playdough offers many benefits for kids including:
Strengthens hand and finger muscles
Develops fine motor skills
Improves dexterity and coordination
Fosters creativity and imagination
Provides tactile sensory input
Teaches shape making, letter forming, and more
Builds focus and concentration
Encourages sharing and cooperation
Playing with this no-cook pumpkin pie playdoh checks all the boxes for learning through hands-on fun!
Pumpkin Play Dough Recipe Ingredients:
1 cup flour
½ cup salt
2 tablespoons cream of tartar
1 teaspoon pumpkin spice seasoning
1 tablespoon oil
1 cup boiling water
Orange Food coloring
Step by step instructions for this Pumpkin Pie Playdough Recipe:
Step One: In a bowl, combine the flour, salt, cream of tartar, and cinnamon.
Step Two: Combine the oils and food coloring with the boiling water. Stir the oily water into the dry ingredients. Mix well.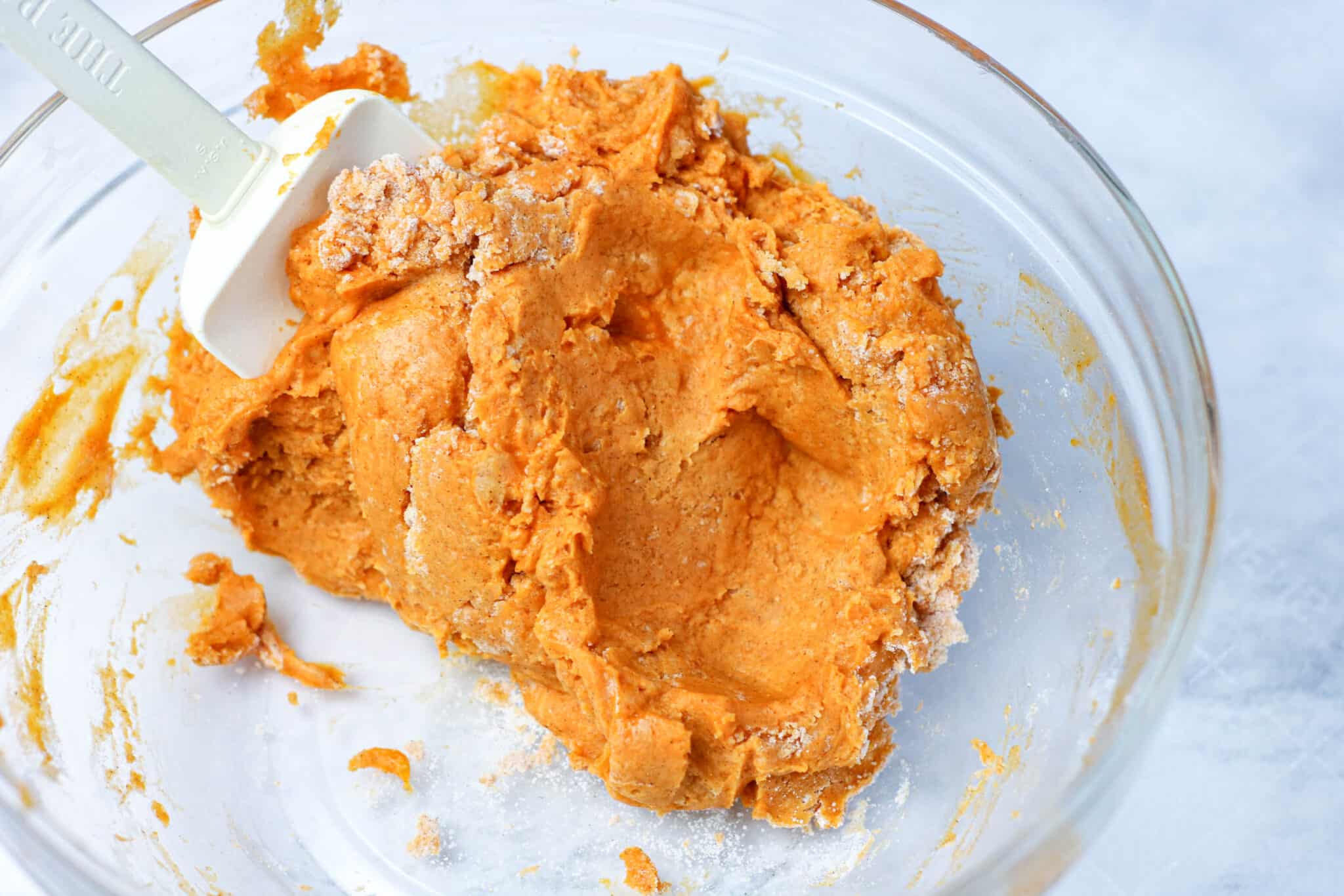 Step Three: Remove the dough and knead until it is no longer sticky.
And then play with the pumpkin spice play dough!!
Who wouldn't want to play with pumpkin pie play dough? This will be so fun for your children! And it adds a level of sensory to their play because of the incredible smell!
RELATED: Fall Leaf Watercolor Salt Painting Activity for kids
You can use this as Halloween playdough too! Especially this year as it's hard to decide whether to stay inside or not on Halloween this is a fun activity to do with your kids!
Variations for this Pumpkin Playdough
For an extra pumpkin scent, add a few more spoonfuls of pumpkin puree.
Switch up the spices based on what you have. Cinnamon, nutmeg, cloves, and allspice all complement the pumpkin flavor.
Use yellow and red food coloring for a tri-color dough that looks like pumpkin pie!
It's that easy to make play dough that smells like pumpkin pie! Adjust any of the ingredients to suit what you have on hand.
This easy pumpkin play dough recipe is simple enough for kids to help mix up. Making DIY play dough is always such a fun hands-on science activity.
Now let's look at some ideas for using this pumpkin pie scented play dough!
Fun Ways to Play with Pumpkin Pie Scented Playdough
This no cook pumpkin play dough isn't just for sensory play! While simply kneading, pounding, and squishing the dough provides endless entertainment, here are some other ways to play:
Squish and Shape
Roll dough into balls, snakes, pancakes
Make handprints and shapes
Cut out shapes with cookie cutters
Make your own "pie" creations
Letter and Number Play
Roll snake letters and numbers
Make letter and number mats to shape
Practice forming letters, numbers, shapes
Fine Motor Play
Hide small objects in the dough and dig them out
Use kid-safe picks and tools for poking
Make imprints with natural objects like leaves
Sensory Play
Add real pumpkin seeds, pie crust pieces, cinnamon sticks
Make scented dough "pies" in mini pie tins or muffin cups
Use pumpkin dough to decorate paper plate "pies"
With a little creativity, there are so many ways to enjoy this scented pumpkin dough! Set up a pumpkin pie play dough station with tools like mini rolling pins, cookie cutters, and silicone pie pans for endless play possibilities.
11/27/2023 03:03 pm GMT
Storing Pumpkin Pie Scented Playdough
This easy play dough will keep for 1-2 months if stored properly in an airtight container or ziplock bag. To maximize the shelf life:
Store play dough at room temperature away from direct sunlight
Knead in a little extra flour to help absorb moisture
Press dough flat in an airtight container to remove air pockets
Don't let play dough dry out, but avoid condensation by not sealing wet dough
I like using quart size ziplock freezer bags for play dough storage. Simply smash dough flat, press out extra air, and seal. Dough will stay fresh for up to two months stored this way.
Mason jars, plastic containers, or food storage containers also work well. The key is keeping dough in an airtight container away from extreme temperatures.
If your play dough does start to dry out, just knead in a little water or vegetable oil to restore flexibility.
More Fun with Pumpkin Play Dough
Take your pumpkin play dough fun even further with these creative ideas:
Use green pipe cleaners to make pumpkin vines
Add real or fake leaves for sensory play
Use dough to make pumpkin shaped stamps
Make pumpkin printed placemats or cards
Create pumpkin dough ornaments
Roll dough grated "pumpkin" for imaginative play
Make pumpkin shaped magnets
Practice cutting skills with pumpkin shaped cookie cutters
Use dough to decorate pumpkins
Make DIY edible dough with cream cheese
With so many ways to play, kids will love getting creative with this pumpkin scented dough again and again!
Easy Play Doh Creations
Want some ideas of what to do with this sensory dough?
How to Soften Playdough
If your homemade pumpkin dough starts to dry out, don't worry! There are a few easy ways to restore moisture and softness:
Knead in a teaspoon or two of water or oil to moisten dough
Work the dough vigorously for a few minutes to warm and soften
Microwave 10-20 seconds to warm if kneading doesn't soften enough
Stir a few drops of oil into the dough while microwaving
Seal dough in a bag or airtight container with a moist paper towel overnight
If dough is really hard, you may need to remake a new batch
With a little TLC and moisture your pumpkin scented dough can return to a perfectly soft, pliable texture for play! Start by working in a teaspoon of water or oil, then go from there.
The microwave is great for a quick boost of moisture when dough is extra stubborn. Just avoid overheating or dough can get gummy.
Letting dough sit overnight sealed with a damp paper towel helps rehydrate too since the moisture distributes evenly.
Don't give up if your homemade pumpkin dough dries out! With a little work, you can breathe new life back into that fall scented play dough
Want to make something to eat while your kids are play? Check out my Pumpkin Whip recipe!