How to Throw a Unique Girl Rainbow Fish Birthday Party
AMAZON AFFILIATE PROGRAM
WhatMomsMake is a participant in the Amazon Services LLC Associates Program along with other affiliate advertising programs designed to provide a means for sites to earn advertising fees by putting links to companies in my blog posts.
Our daughter Sarai turned one in September of 2017. I had planned this Rainbow Fish party for months! I always throw my children book parties for their first birthdays and ask our guests to bring books as presents to build their libraries. This year, I asked for girly books since most of the books we have are tailored to boys.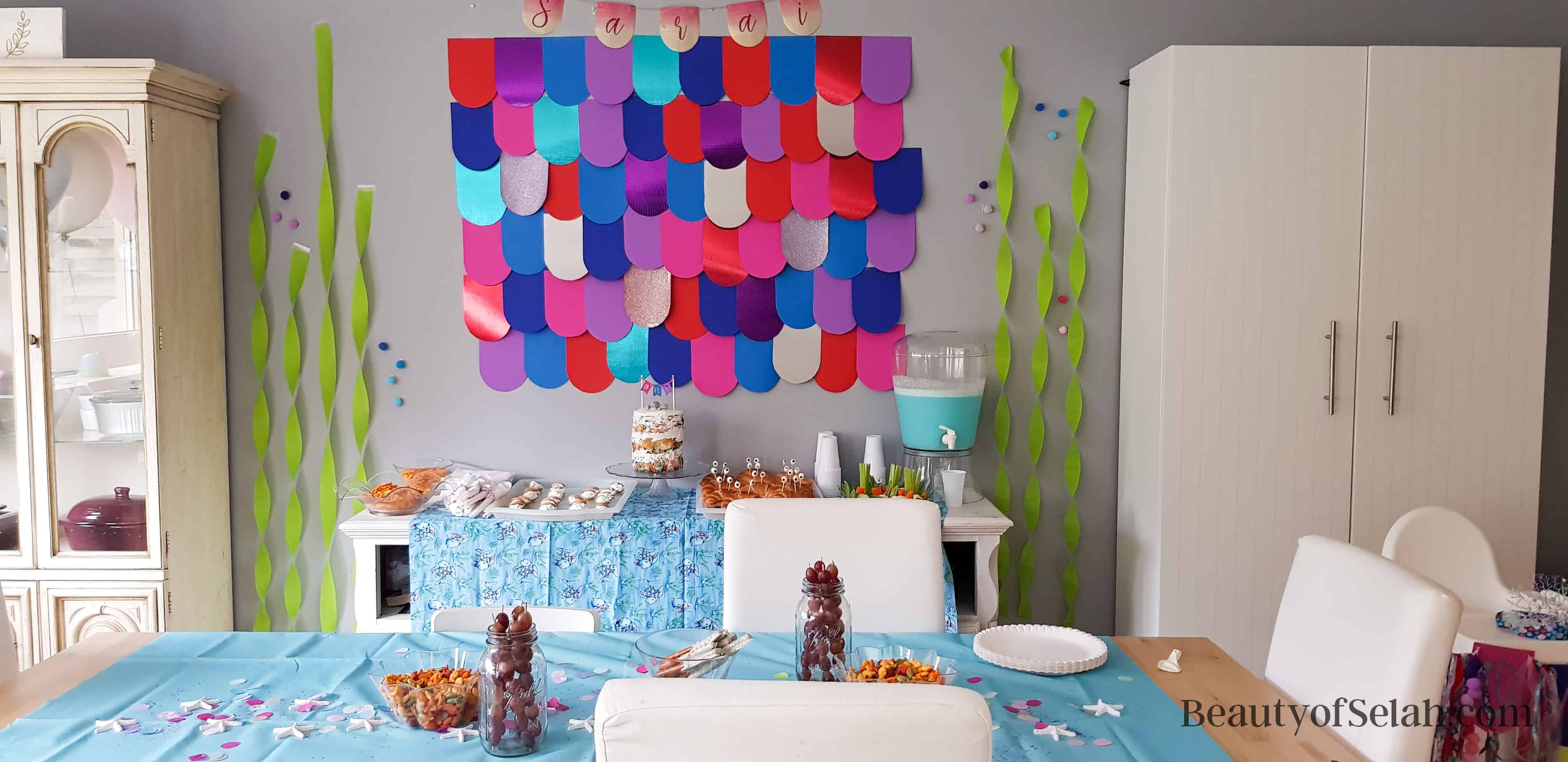 Making the scale wall
I had bought the banner that I put Sarai's name on in the dollar section of Target like a year ago. Her name was cut out of some heat transfer vinyl and ironed it on, which was much easier than using my heat press!
I cut out an enlarged scale out of cardstock with my silhouette machine and traced it several times onto large poster paper and then cut them out. I made sure to get some glittery and shiny card stock to cut some scales with and then taped them all to the wall the night before the party. Green streamers were used to make the seaweed. I found some little colored puff balls at a store called Tedi here in Germany and taped those to the wall as if they were little colored bubbles.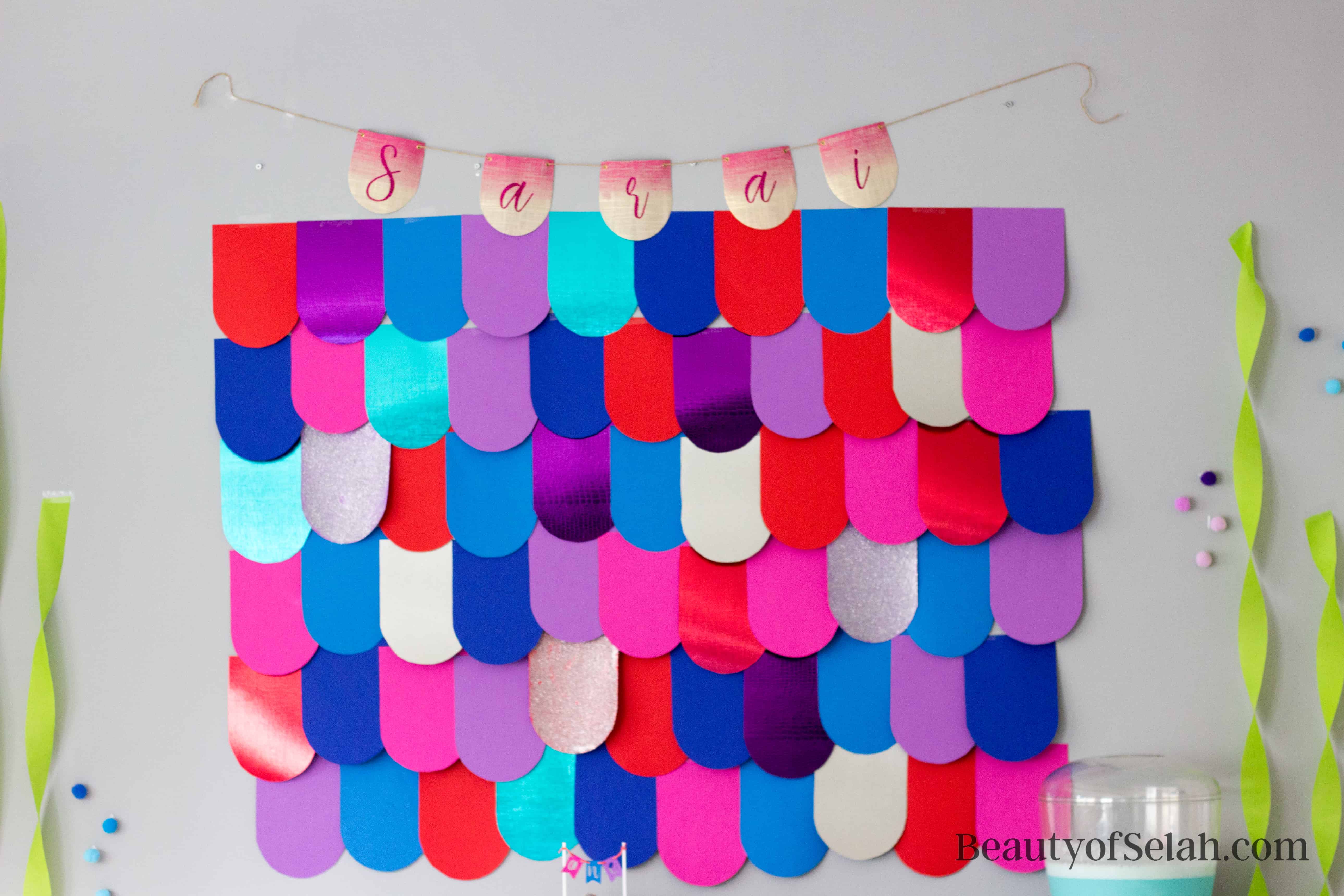 The table scape
I got a light blue table cloth for our main table and laid out some paper confetti dots on it that I got from the wish app. I also got little starfish from amazon. And then of course, I poured glitter everywhere! I filled some bowls up with goldfish, put some grapes on sticks and made some white chocolate covered pretzels for this table.
I love using table cloths because after the party you can just ball all of the mess up and throw it away.
Buffet Display
After the party is over is never a good time to realize that you didn't get a good picture of this display. You can still see it in the above picture. I used extra rainbow fish fabric that I had from making Sarai's birthday party dress and laid it out as a table cloth underneath all the food.
Food
I got little croissants at the grocery store Kaufland here in Germany that were pre packaged, cut them in half with a bread knife and put some ham and cheese in the middle. Then I took some googly eyes and put them on tooth picks and stuck them in the croissants so they would look like little crabs!
Next I took some veggies- celery, carrots (I told my husband to get baby carrots but he forgot so I chopped some big ones), cauliflower, snap peas and mini bell peppers. I poured some ranch in a little round baking dish and stuffed them all in there up against each other so they would stand up.
Then I took vanilla wafers, filled them with extra frosting I had from the cake I made and put little silver ball sprinkles in each of them to look like clams with pearls.
The cake
I took my favorite vanilla cake recipe (will update with recipe link please check back!) and added some sprinkles in it. I baked three in 8 inch cake tins. Then I took a "naked cake" approach and added the frosting on between each of the layers, spread evenly and then scraped the excess onto the sides.
I got a sea shell mold and added white chocolate into it to make little shells, popped them in the freezer to harden and then I lightly coated them with edible shimmer dust. The "one" banner was cut out from my silhouette with a basic banner design and then I added the letters on top for them to be cut out. I used some yarn and tied the banner to some cake pop sticks and stuck it in the cake. When it was time for candles, I added some basic candles and a number one candle for her!
The highchair banner and crown
I wanted to do something different for this banner so I added some fabric and ribbon scraps!
I cut a few extra scales out and the word one out with my silhouette. Then I added them onto some yarn and tied on lots of little fabric scraps and tulle and ribbon. I took some of the same cotton ball puffs I used on the walls and I used a needle to string them onto some more yarn to tie onto the banner.
I made the crown. Although it definitely didn't come out the way I expected, since I spent so much time on it I used it anyways! I ordered some coral for fish tanks on amazon but I'm sure you can find some at a local pet store. I cut it and rounded it out and then painted it with some acrylic paint. The paint colors I used were white, blue, and purples.
As I painted I sprinkled some glitter on it so the glitter would dry onto the paint. I also added some pearl beads to the coral. Then I took some clear sort of thick plastic and wrapped it in extra fabric from Sarai's dress to make the headband, attaching some elastic in the back.
She only kept it on for a little while. I had to keep putting it back on her because she took it off so much. Which would mess up her hair so the crown helped cover up her hair. It's in an awkward growth stage and there doesn't seem like there's much I can do with it right now, so the crown really helped!
Her dress
I first made her dress from some double brushed poly fabric. The pattern is the Bella Sunshine Sahara dress! I love love love this pattern! Next I topped it with a pattern from Violette Field Threads called Autumn. It's a little pinafore! I'm so grateful that a friend of mine in the states went to hobby lobby for me and found me this rainbow fish fabric it was perfect for her party!
In case you can't tell, she loved her dress!! And I did too.
The cake smash
This was the best photo we got of the candles being lit lol! But she love love loved the cake! I took the top layer of the cake off and used it as her smash cake. Then I divided the rest of the cake up for our guests.

The cake smash is seriously my most favorite part of any first birthday party! Babies are so incredibly unpredictable and I'm so happy I was able to capture these moments! She really did pick up the whole cake haha!
First Birthday Poster
I created her birthday poster in my silhouette software. I have the business edition so I saved it as a jpeg, put it on a flash drive and then went to get it printed. This wall was decorated with streamers also and white balloons and puff balls for bubbles. This was definitely an upgrade from the first birthday poster I made my first son by hand! I love creating things like this to look back on. I'm keeping all of these for something special to give my children when they grow up.
Conclusion
This party was so fun! I usually make customized gifts for our party guests but life got in the way. I hope you enjoyed the details of our party. If you have any questions make sure to leave me a comment!
For updates on when my new posts go live and specials just for my subscribers please subscribe to my blog.
.