The Best 16 Bible Verses Anxiety Cannot Prevail Against
AMAZON AFFILIATE PROGRAM
MomminFromScratch is a participant in the Amazon Services LLC Associates Program along with other affiliate advertising programs designed to provide a means for sites to earn advertising fees by putting links to companies in my blog posts.
This post will show you the best 16 bible verses anxiety cannot prevail against.
For most of my life, anxiety was a term I heard of but I never understood that's what I was experiencing. It's amazing when you can give a problem a name, then go to the word of God and find out how to defeat it.
The bible says in Romans 12:2 that we can renew our minds with the word of God. Meaning- when we are thinking, speaking or feeling something contrary to what God has for us, we can replace it with His word. It may not work right away, in a day or a week.
But God's word does not fail.
In fact, Romans 12:2 doesn't just say we can renew our minds, it says we will be transformed by the renewing of our minds.
16 Bible Verses Anxiety can not Prevail Against
((Make sure to scroll to the end of this post to grab your free scripture card))
**all of these verses come from the NKJV, if you would like to look them up in your preferred translation, please copy and paste into biblegateway.com
1.
1 Peter 5:6-7
Therefore humble yourselves under the mighty hand of God, that He may exalt you in due time, casting all your care upon Him, for He cares for you.
This is one of my favorite verses when I am angry, anxious or down. The best part of this verse? The word cast. It's defined as "throw (something) forcefully in a specified direction." I picture myself sometimes throwing things at God. My anger, my anxiety, my frustrations. I throw it at Him. And I trust that He will catch them because He cares. He will take everything you care about, trust Him with all that you have- even the hard things like anxiety.
2.
2 Thessalonians 3:16
Now may the Lord of peace Himself give you peace always in every way. The Lord be with you all.
Peace is the exact opposite of anxiety. And peace is what God gives to us freely. In the midst of anxiety, let us be reminded that God can and will give us peace.
3.
Colossians 3:15
And let the peace of God rule in your hearts, to which also you were called in one body; and be thankful.
To take peace a step further, I love that this verse uses the word "rule." Because if I'm being honest, when I'm anxious, peace is definitely not ruling. Anxiety is. But God's peace can rule if we "let" it. And it's not simple, or easy. Maybe for some, it's just a decision. But letting peace rule is a choice we need to make repetitively so that anxiety has no room in us.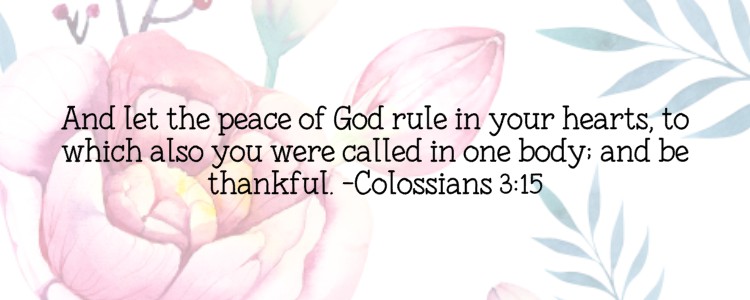 4.
Hebrews 13:6
So we may boldly say: "The Lord is my helper; I will not fear. What can man do to me?"
I will not fear. Fear and anxiety are interrelated. With fear, there is something clear and present that makes us fearful. Anxiety is usually a response to an imagined or unknown threat. (source to read more here). Know that God can help us in any situation, real or imagined. Anxiety isn't new to Him, He's willing to help if we let Him.
RELATED POST: How to Spend Time with God by Quickly Pausing 25 Ways
5.
Isaiah 41:10
Fear not, for I am with you; Be not dismayed, for I am your God. I will strengthen you, Yes, I will help you, I will uphold you with My righteous right hand.'
I don't know about you, but I don't take God's words lightly. Do you believe God will strengthen you? Do you believe He is with you? Even in the middle of having anxiety? Or having a horrible anxiety attack? God is with you. He says to not be dismayed, He will strengthen you. These are truths we need to cling to. Memorizing this verse, and repeating it in the midst of anxiety can help us slowly tear the bricks down from the anxiety wall in our lives.
6.
John 14:27
Peace I leave with you, My peace I give to you; not as the world gives do I give to you. Let not your heart be troubled, neither let it be afraid.
Nothing on this Earth can give us the peace that comes from our Heavenly Father. Seeking out worldly solutions compare nothing to seeking our Savior.
7.
Matthew 6:25-26
"Therefore I say to you, do not worry about your life, what you will eat or what you will drink; nor about your body, what you will put on. Is not life more than food and the body more than clothing? Look at the birds of the air, for they neither sow nor reap nor gather into barns; yet your heavenly Father feeds them. Are you not of more value than they?"
This is Jesus speaking. I cannot imagine how valuable each of our lives are to God. So valuable that He sent His son to die for us. And He didn't stop there, He is here for us, day by day, minute by minute. He cares about your anxiety, He wants you to seek Him for help.
8.
Matthew 11:28
"Come to Me, all you who labor and are heavy laden, and I will give you rest."
Anxiety is heavy. Rest in Jesus. Let Him give you rest. I've said before, I cannot promise it will happen right away, but I do know that Jesus heals, and He wants to give us rest. We just need to come to Him. Not once, not twice, but continually lay our anxiety at His feet.
9.
Philippians 4:6
Be anxious for nothing, but in everything by prayer and supplication, with thanksgiving, let your requests be made known to God;
If you're a bible thumper, you're probably wondering why this verse isn't at the top of the list. I intentionally put it down here. Because all these scriptures can equally help.
The first time I read this verse, I wrote it down. I memorized it and every single time I felt anxious I repeat this in my mind. I cannot begin to tell you how much this verse has helped me. This can help you too. It's simple, be anxious for nothing. Yet it seems so hard to apply. I love the end of the verse " let your requests be known to God". It reminds me every time that I need to go to Him in prayer and ask for help with this burden.
10.
Proverbs 3:5-6
Trust in the Lord with all your heart, And lean not on your own understanding; In all your ways acknowledge Him, And He shall direct your paths.
All your heart. This may be easy for some, but it surely isn't easy for me. I trust God, I do, maybe even more than a lot of people. But that doesn't mean that in the back of my mind I don't think of a plan B. What do I need to do if this doesn't work out? Or work out in my timeline? Or fast enough?
But then I have to remind myself, that in the time that it takes for God to do what I need, there is purpose in waiting. There is purpose in all of it. We don't go through this for no reason. God is strengthening us. He is using us. He is sanctifying us.
11.
Psalm 34:4
I sought the Lord, and He heard me, and delivered me from all my fears.
This verse is short. But there is so much to unpack here.
First, "I sought the Lord." We need to be diligently seeking God. We need to involve Him in all aspects of our lives including anxiety. Feel anxious? Seek God.
Second, "He heard me." You know, sometimes the hardest for me, is that people without anxiety don't understand what I'm going through. Or that since I'm a Christian-this shouldn't be happening to me. But it does. Can you relate? And to know that God hears us, He understands, He knows….that means the world to me. Not only is it just that "God hears us", but it's also that the One who made the Earth, moon and stars, who knit us together in our mother's wombs and who can deliver us, hears us.
Third, "Delivered me from all my fears". That takes my breath away. Oh Jesus, please deliver me, and please deliver the one reading this post. He can, and He will deliver us. Do you trust Him to do so?
12.
Psalm 55:22
Cast your burden on the Lord, And He shall sustain you; He shall never permit the righteous to be moved.
There's that word again. Cast. Like the first verse, every time I read this word in the bible I imagine myself throwing my "junk" at God. Here God, please take this. Take it all. Sustain me.
This verse says "He shall never permit the righteous to be moved." Has anxiety ever "moved you" to do something? Let's renew that right now. Instead of allowing anxiety to move us, let's use the power of God to be reminded that the only thing we're moving toward is freedom from anxiety by using the word of God.
13.
Psalm 56:3-4
Whenever I am afraid, I will trust in You. In God (I will praise His word), In God I have put my trust; I will not fear. What can flesh do to me?
What can flesh do to me? The anxiety we feel is a part of our flesh. Our flesh is what causes us to sin (not saying anxiety is sin), it's what causes us to be sick, to stray away from God…all the bad stuff that is attached to us is caused by our flesh. But we can't just get rid of it right? Because on Earth, our flesh is our burden, no one can become perfect or blameless because of it.
But this verse, it's like it's saying, I have so much confidence in God, who cares about my flesh? What can it do to me? It can't make me sin, I have put my trust in God. It has no power over me because God is my Savior. Not my flesh. Remember that- God has power over our sinful nature, and He has power over our anxiety. But we need to trust Him to take our anxiety away.
14.
Psalm 23:4
Yea, though I walk through the valley of the shadow of death, I will fear no evil; For You are with me; Your rod and Your staff, they comfort me.
Oh my, there is so much in this verse I could go on and on about it for days. But I want to focus on the last part of the verse.
"Your rod and Your staff, they comfort me."
You see, Jesus is the Shepherd and we are His sheep. In Biblical times, shepherds walked around with rods and staffs to rescue, protect and guide sheep. They became a symbol of God's love for His flock. The sheep knew who their shepherd was, and they trusted him to protect them. Just like we need to trust God to protect us. We should find comfort in God's power to protect us. Even in the hardest of times, He is there to rescue, protect and guide us.
15.
Romans 8:38-39
For I am persuaded that neither death nor life, nor angels nor principalities nor powers, nor things present nor things to come, nor height nor depth, nor any other created thing, shall be able to separate us from the love of God which is in Christ Jesus our Lord.
Nothing can separate us from God's love. Nothing. Not even the anxiety that seems to cripple you. God still loves you in the moments you feel the most anxious. He still loves you even if you forget to ask Him for help. God still loves you, no matter what. And His love isn't just a feeling, it's all-encompassing, never-ending, deliver us from our anxiety love. A love that doesn't demand anything in return. As His sons and daughters, He loves us, and He can free us from all our anxiety.
16.
Psalm 32:6-7
For this cause everyone who is godly shall pray to You In a time when You may be found; Surely in a flood of great waters, They shall not come near him.You are my hiding place; You shall preserve me from trouble; You shall surround me with songs of deliverance. Selah
Everyone should call out to God in their times of trouble, this is the same for us when we are feeling anxious. I love this verse because it has the word selah in it. (If you haven't noticed, it's one of my favorite words-ever) It means pause. And at the end of this verse, it's like a reminder to pause and exhale. God can deliver us, knowing that makes me exhale. We don't need to search anywhere else, because He can-and He will deliver us. Selah.
You can grab ALL of these cards as a pack here:
Conclusion
If these verses convince you of anything, it should be that we are not left alone to deal with anxiety on our own. These are the best 16 bible verses anxiety can not prevail against. I would suggest memorizing some or all to help you eliminate anxiety from your life. If you'd like a free scripture card that you can carry around with you, sign up below for my freebie!
RELATED POSTS:
How to Spend Time with God by Quickly Pausing 25 Ways
How to Gain Security in the Full Armor of God
What the World Never Told you: Karma is a Lie
How to Give the Gospel in Two Easy Ways