The Ultimate List of the BEST Christian Podcasts you need to listen to
AMAZON AFFILIATE PROGRAM
MomminFromScratch is a participant in the Amazon Services LLC Associates Program along with other affiliate advertising programs designed to provide a means for sites to earn advertising fees by putting links to companies in my blog posts.
I've compiled a list of the best Christian Podcasts to fit all your needs. I also include how to listen to podcasts! Check out the table of contents to find what you're looking for!
I was getting ready for the day and decided to take a friend's advice and start listening to what's now my favorite podcast.
As I listened to her words tears flowed. How could a woman who didn't know anything about me speak straight into my soul?
When my world was opened to podcasts it was like another light was able to shine into my life.
And when I discovered I could listen to different topics that I personally struggled with that also focused on God's word, I was hooked.
How to start listening to Christian podcasts
The best part about podcasts is that they are free. And you can listen to them anywhere you have a speaker or headphones.
You can even download them and listen to them without internet access. If you're looking for a Christian podcasts app you've come to the right place!
You can listen to these Christian podcasts on Spotify and also search for Top Christian podcasts on Spotify.
Here are some devices you can listen to podcasts on:
11/27/2023 10:18 am GMT
Search below to find the best Christian podcasts that will fit your needs
50+ Best Christian Podcasts
Before we get into the podcasts I'd love to share with you a quick way to grow closer to God with The S.E.L.A.H. Method!
Christian Living Podcasts
"If you are deep in the trenches of life and looking for hope-filled encouragement and practical wisdom, this podcast is for you. With her down-to-earth style, blind author Jennifer Rothschild offers practical encouragement and biblical insight to help you live the "I Can" life of Philippians 4:13 ("I can do all things through Christ who strengthens me").
Each episode, Jennifer answers real-life 4:13 questions like, "Can I overcome my fear?" or "Can I find balance?" You won't find just a cheery "Yes you can"—you will hear a confident and compassionate "Yes, you can—and here's how." You will gain the inspiration and help you need to be and do more than you feel capable of!
So, if you could use some practical encouragement, join Jennifer and her "Seeing-Eye Guy" KC for the 4:13 Podcast—it's just 2 friends, 1 topic, and 0 stress."
"The Happy Hour Podcast is hosted by Jamie Ivey. Each week she brings a captivating woman to be show. During the happy hour they discuss the little things, the big things, and everything in between. It's just as if you were around the table with your own girlfriends. Their conversations include issues of faith, parenting, marriage, failures and successes in life, as well as anything else you could imagine! Jamie loves to connect with women and encourage them as they journey through life. These conversations will make you laugh and cry all in one hour. The Happy Hour will be something you look forward to each week. You will be encouraged as you listen to other women talk about the simplest things in life to the grandest. Grab a cup of coffee and enjoy the conversation!"
"Conversations about Jesus, Holy Spirit, and God the Father to spur you on in your relationship with Him, and to bring God glory. We're here to share real stories, struggles, and testimonies of the Unaltered Grace that God has lavished in our lives. We pray that these conversations Biblically inspire, equip and implore you to live every area of your life in light of the Gospel, and with your eyes fixed on Jesus. Hosted by Rachel Lawrence, who spends her days immersed in God's Word, studying for a Theological Seminary Master's Program, chasing her almost-two year old son, loving her Husband, and taking care of critically ill children and their families as a PICU RN. Rachel has a heart for the Gospel and for pointing others to Christ, while desiring the Holy Spirit to glorify God through her life."
"The "Glorious in the Mundane" podcast is hosted by Christian Artist and Worship Leader Christy Nockels. Offering conversations and interviews with some of your favorite artists, speakers and authors, the podcast is designed to inspire you right where you are today doing whatever it is you're doing."
"'Hope For The Heart' with June Hunt is a daily half-hour program focused on Christ-centered counsel. Listeners receive practical insights that encourage and impact their lives."
"Building Relationships is a weekly 54-minute program offering life-changing insight and realistic advice rooted in the Word of God. Hosted by bestselling author Dr. Gary Chapman, Chris Fabry and Andrea Fabry, Building Relationships is designed to provide fun and informative, practical help for your marriage."
Theology Podcasts
"The creators of The Bible Project have in-depth conversations about biblical theology."
"The Christian faith is not mindless or irrational. Knowing Faith is a podcast exploring how our faith is founded upon Scripture. We believe the Bible is for everyone and are committed to helping the Church understand where their faith is rooted. Hosted by Jen Wilkin, JT English and Kyle Worley, this podcast dives into Christian story, belief and practice in a way that that is accessible to everyone."
RELATED: 30 Day New Testament Bible Reading Plan
"Nancy Guthrie talks to some of the best teachers and preachers of our day to equip all kinds of Bible teachers to creatively teach through specific books of the Bible."
Best Christian podcasts for moms
Applying God's word to every area of the Christian mother/wife's life.
"Mom life: we're surrounded with the message that it's the tired life, the no-time-for-myself life, the HARD life.
And while it is hard and full of lots of servitude, the idea that motherhood means a joy-less life is something I'm passionate about putting a stop to.
I'm on a mission to help you stop counting down the minutes till bedtime (at least most days).
I want you to stop cleaning up after your kids' childhood, and start being present for it – start enjoying it.
I believe in John 10:10, that we are called to abundant life, and I know mothers are NOT excluded from that promise.
Join me in conversations about simplicity, minimalism, and lots of other good stuff that leads to a life of less for the sake of enjoying more in motherhood. "
RELATED: How to Mom When it's Not Natural
"Heather MacFadyen, mother of four boys, connects you the listener with people and resources to help you feel less alone. Consider it an invitation to "withness". With mentors. With friends and with God in you! Over at DontMomAlone.com she helps join y'all to the 'Not Alone Community'."
"A weekly podcast for moms that comes out on Wednesdays. A space to remember we're not alone in our experiences, to be challenged to have joy among the chaos, remember grace covers guilt, and seek the truth of the gospel above all else. This is the podcast for the imperfect mother, still learning, still growing, and still fully recognizing she doesn't have it all together—but comes every day to the base of the cross, to seek the one who does."
Christian podcasts for women
Each episode of Graceologie is a conversation with a different guest. Learn from many Christian women about all topics in life.
Favorite Episode: Episode #16 with Wendy Speake
Led by Lisa Tykhuerst, this podcast is full of godly teachings that are applicable to everyday life. Featuring Lisa herself, staff and friends of the ministry.
Marked is an amazing podcast for women. I love their description of the podcast I couldn't have said it better myself-
"a podcast for women who are marked by a hunger for God's Word, a longing to impact culture, and a desire to discover and live out God's calling in their lives. Each episode Mary Margaret West and Elizabeth Hyndman will talk about what God is doing—how He has and is marking each of us."
This podcast by Emily P. Freeman is my absolute favorite. The episodes are super short and easy to understand and apply. This podcast is for women who struggle to make decisions in their everyday life and how to bring God into the decision process. But it's so much more than that. Just take a listen to my favorite episode: 27 Stop Rushing Clarity.
Funny Christian Podcasts
"Poddy Break is the brainchild of comedian Tim Hawkins. Listen as Tim talks about any number of topics with fellow comedians, friends and sometimes, random passersby."
Christian Podcasts for Men
"Dad Tired is a community of men who are taking their faith, family, and marriage very seriously. We are equipping Christian husbands and dads to lead their family well. Past guests include; Bob Goff, The Bible Project, Jon Acuff, Jefferson Bethke, Paul David Tripp, John Mark Comer, Shane Claiborne, Tim Chester, Andy Crouch, and Jeff Vanderstelt."
Intellectual Christian podcasts
"Daily audio clips of John Piper answering tough theological and pastoral questions."
Apologetics Podcasts
"The Stand to Reason "Please Convince Me" Podcast is hosted by J. Warner Wallace, cold-case detective and author of Cold-Case Christianity (A Homicide Detective Investigates the Claims of the Gospels). We examine the case for the Christian Worldview from an evidential perspective and do our best to tell it like it is. With the rules of evidence clearly in mind, we examine the case for the existence of God, the reality of dualism, the reliability of the Biblical text, and the deity of Jesus. Along the way we also take a critical look at the nature of the Christian Church in America today. Why are so many young people leaving the church? Why are so many older Christians apathetic and unengaged? And why do so few Christians understand what they believe, and why do even fewer understand WHY they believe it? Join us each week as we sort through the evidence for the Christian Worldview and examine the life of the Church. "
11/27/2023 06:48 pm GMT
"Tune in to our weekly radio program hosted by Dr. Frank Turek. Join him as he discusses challenging topics, and interviews dynamic Christian apologists. Cross Examined is heard every Saturday at 9 a.m. central."
"Apologetics 315 interviews a variety of Christian apologists about issues of apologetics, evangelism, and theology."
Bible history podcast
"A layman's guide to a 150 years of research into the history presented in the Bible. I explore the religion of ancient Israel, and the development of Christianity through to the death of Paul. I discuss every single book in every Bible (there are more than you think!) Lightly garnished with a dash of drollery, a soupcon of scrutiny, and not one ounce of objectivity. Not one ounce! Episodes are released every third Sunday."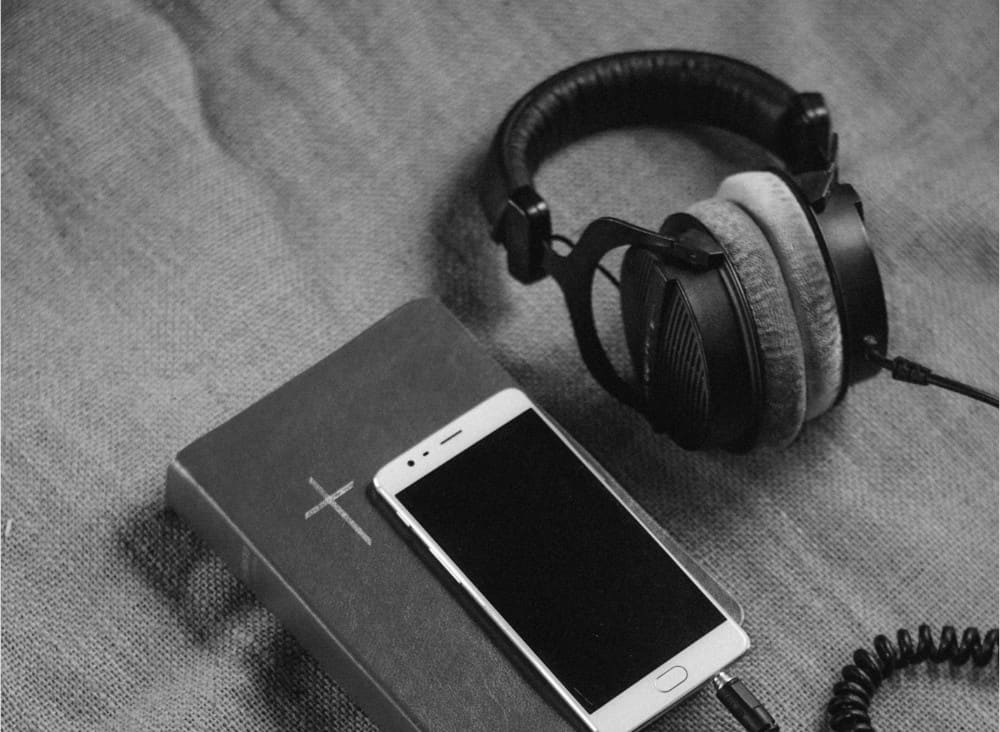 Preaching & Ministry Podcasts
Great Biblical teaching from Judah Smith
"Featuring pastor and evangelist Greg Laurie's audio messages from Harvest Christian Fellowship and the Harvest Crusades."
"Proudly beaming from the Passion/sixstepsrecords offices in lovely Atlanta, GA, the Passion Podcast is hosted by Louie Giglio. The podcast features conversations with the Passion/sixstepsrecords family, news on what's going on with Passion Conferences and sixstepsrecords. Tune in and make the connection."
Free daily Bible study podcast
"Look at the Book is John Piper's ongoing series of 8-12 minute videos to help you learn to read the Bible for yourself."
Christian podcasts for marriage
"Show hosts Ryan and Selena Frederick discuss modern marriage issues with their trademark transparency, humor, and gospel-centered teaching. Join them for honest conversations, light-hearted hilarity, and more than enough grace to go around…"
"Timeless wisdom from Focus on the Family that will challenge and encourage you in your marriage."
"Be encouraged and uplifted to build your family upon enduring truths that are built upon God's word. Whether it's marriage tips or how to raise your sons and daughters, Dr. Dobson and his guests will help you build a stronger marriage and family."
Christian podcasts for kids
Enjoy these Christian podcasts for youth!
"Building on the popular 1 Year Daily Audio Bible, the community expands to provide the Daily Audio New Testament just for Kids. Hosted by the Daily Audio Bible's Brian Hardin and read by his daughter China this is the perfect way to get your kids into the Bible everyday. "
"Get the latest news and go behind-the-scenes of the world's #1 family audio drama, 'Adventures in Odyssey'! In 'The Official Adventures in Odyssey Podcast', you'll hear fun stories straight from the show's actors — and 'Adventures in Odyssey' producers regularly answer fan questions submitted at WhitsEnd.org/Podcast. New editions available every other Wednesday. Subscribe now to get each new edition right when it releases!"
11/27/2023 03:53 pm GMT
Christian podcasts for young adults
"Boundless is a ministry of Focus on the Family that exists to see young adults mature in Christ as the foundation for marriage and family. Through our website, blog and weekly podcast, we help singles in their 20s and 30s navigate the path to marriage biblically and intentionally while providing sound resources and advice on key issues young adults face. We discuss everything from dating and relationships to faith, worldview, career and culture in a fun, engaging and relevant way. Were also on Facebook (Boundless.org) and Twitter (BoundlessTeam).The Boundless Show is a weekly podcast designed to build community among single young adults and provide a God-centered perspective on relationships, culture, career and faith. Hosted by Focus on the Familys Lisa Anderson, The Boundless Show brings a voice to the interests and concerns of todays 20- and 30-somethings."
"Talking about Bible stories is often fraught with scholarly nerd alerts about ancient linguistics and inaccessible theological discussions centered around hermeneutics. But what if there was a way to use your pop culture literacy to enhance your biblical literacy. What if you could recap the Bible like you recapped your favorite TV show? Welcome to the Bible Binge hosted by Knox McCoy and Jamie Golden of The Popcast."
"Matters of culture should matter to us—because they matter to God. Hosted by Adam Griffin and Adam Hawkins, the Culture Matters podcast explores the intersection of faith and culture. Looking at everything from politics, art and entertainment to issues such as racial reconciliation and the sanctity of human life, we discuss what it looks like to live faithfully on mission—in the world but not of the world."
Christian homeschool podcasts
"You've made the commitment. You've caught the vision. You want to serve God in every aspect of your family life— but sometimes it's hard to put feet on that vision! How do you get from principle to practice? What does it look like when you get there? How do you apply Scriptural truth in a 21st century family? This is "Making Biblical Family Life Practical," with Hal and Melanie Young. With humorous banter, laser beam insight, and lots of practical advice, Hal and Melanie address real world issues, current events, marriage, parenting, raising sons, and family life. They'll encourage and inspire you to walk out the Word of God in your family — and work toward reforming our culture, too. Monday nights at 9 Eastern. Don't miss it!"
"Learn how to manage your home and homeschool with practical, simple, guilt-free ideas from a mom of 10!"
"Join us as we cultivate grace into the principles and practices of homeschool and motherhood. Homeschool experts and mom mentors will be here to share encouragement, tackle questions about homeschooling methods, learning styles, and help you cultivate a home and mom-life filled with learning and love. Right here — every other Saturday."
"Homeschool tips & interviews, product reviews, and inspirational helps for homeschooling moms of faith."
"Your prescription for happier, healthier homeschooling with Christian psychologist and veteran homeschooling mother of six, Dr. Melanie Wilson, who interviews experts on the issues that drive you crazy."
Christian podcast on anxiety
"The podcast that encourages and inspires you to find simple ways to bring more joy into your day. Whether you are looking for a little encouragement in your faith, family, home, homeschooling (if you do) — or just life — then this is the podcast for you! Let's get real and talk about the challenges that we face as women in our day-to-day lives. My guests and I will discuss practical tips and "hacks" about how to find harmony in relationships, order in your home, and how to add a little good ol' fun to your week. My prayer is that this podcast will bless you and add a smile to your face (even if it causes a few new wrinkles) — and to hopefully help you "Live Simply" and "Be Joyful.""
This is an episode from Proverbs 31 Ministries podcast that is definitely worth taking a listen to!
Conclusion
This post is broken down by categories of Christian Podcasts, I hope that you find ones that will suit all your needs! You can listen to these podcasts across all devices and platforms like Castbox and Spotify!
If you want to grow your relationship with Christ sign up for the 30 Day Bible Reading Plan!