10 Prayers for a Financial Breakthrough (Step by Step Guide)
AMAZON AFFILIATE PROGRAM
MomminFromScratch is a participant in the Amazon Services LLC Associates Program along with other affiliate advertising programs designed to provide a means for sites to earn advertising fees by putting links to companies in my blog posts.
Need prayers for a financial breakthrough? I've created 10 powerful prayers for you!
Have you ever desperately needed a financial breakthrough?
Maybe you stare at piles of bills wondering how you'll pay them. Perhaps your debt feels like a dark cloud hanging over you. Or you've exhausted every human effort just trying to provide for your family.
You're not alone. Financial hardship hits all of us at some point. And it can feel overwhelming and hopeless, especially when you've tried everything and nothing seems to change.
But there is hope. You have access to the greatest source of provision in the universe: God Almighty.
That's right – the same God who created the galaxies with a word…who fed five thousand people with a few loaves and fish…who promises to supply every one of your needs…
This powerful God invites you to bring your financial troubles to Him in prayer. Not just routine prayer…but bold, persistent, faith-filled prayer that unleashes Heaven's abundance.
In this article, you'll discover how to pray for financial breakthrough…craft customized prayers that get results…stand on powerful Scripture promises…and position yourself to receive financial miracles.
You'll be inspired by real-life bible stories of breakthrough after breakthrough…equipped with practical guidance to overcome doubt and press in…and taken step-by-step through unleashing the provisions of Heaven through strategic prayer.
Don't lose heart or accept defeat for one more day. God cares deeply and has miraculous provision with your name on it. Discover how to pray – really pray – for the financial turnaround you desperately need.
Breakthrough awaits! Now, let's begin…
What is a Financial Breakthrough?
A financial breakthrough is a sudden change in financial status or prosperity. It is a dramatic increase in finances, wealth, and resources that surpasses current limitations. Financial breakthroughs allow us to pay off debts, pursue new opportunities, support loved ones, and fulfill dreams.
While money itself does not guarantee happiness or fulfillment, decreased financial burdens can provide peace of mind and the ability to be a blessing to others. With divine intervention, financial status is not limited by current circumstances. Miraculous financial breakthroughs are possible with faith and prayer.
7 Financial Breakthrough Prayer Points
Based on powerful scriptures and stories, here are seven key prayer points to ask God for financial breakthrough:
God, I ask for Your supernatural provision and financial blessing over my life (Philippians 4:19).
Thank You, God, that You own all the cattle on a thousand hills and hold the wealth of the world in Your hands (Psalm 50:10-12). I declare that my finances are not limited to my own strength but to Your unlimited abundance.
Lord, I ask You to multiply the financial resources I currently have, just as You multiplied the oil and loaves (2 Kings 4:1-7, Matthew 14:13-21). Cause provision to overflow in my life.
Father, teach me to be a wise steward of the finances You've given me (Luke 16:10-11). Help me make God-guided financial decisions.
Lord, intervene in my financial situation and lead me on the path to financial freedom (Psalm 25:4-5). I know Your plans are to prosper me (Jeremiah 29:11).
I reject anxiety, fear, and worry over my finances in Jesus' name (Philippians 4:6-7). I receive Your perfect peace as I release this burden to You.
Thank You, Father, for miraculously providing during this financial hardship (1 Kings 17). I believe You will make a way when I see no way.
10 Powerful Sample Prayers for Financial Breakthrough
Here are some example prayers and verses to inspire your own powerful miracle prayers for financial blessing and freedom.
Please use these prayers for a financial breakthrough in your prayers or feel free to change them to your own personal needs!
Prayer for a Financial Breakthrough
Heavenly Father, I come before You because I need a miracle for a financial breakthrough! I ask You to bless me abundantly so that I may bless others. I pray for miracle provision and abundant resources to eliminate debts and generously give to Your kingdom. Grant me wisdom to steward finances, give to the needy, and partner with Your work on earth. I ask this in Jesus' powerful name. Amen.
(Deuteronomy 8:18, 2 Corinthians 9:8)
Prayer for Increase
Lord, I praise You as my Jehovah Jireh, mighty Provider! Thank You that You own the cattle on a thousand hills. I ask You to release financial increase and abundant provision in my life. Enlarge my territory for the glory of Your name. Send prosperity now according to Your riches in glory by Christ Jesus! Amen.
(1 Chronicles 4:10, Philippians 4:19)
Prayer Against Debt
Father God, I confess the times I have misused finances and fallen into debt. I ask Your forgiveness. I know You want me to prosper and be in good health no matter my current financial situation. Help me pay my debts promptly and walk in financial security. Teach me to give freely and live generously by faith. Together, I know all things are possible. In Jesus' name, amen.
(3 John 1:2, Luke 1:37)
Prayer for Urgent Financial Miracle
Almighty God, I desperately need a financial miracle in my life today! I'm coming to You with a prayer for a financial miracle and putting my trust in You. Please help me, Lord. Send urgent provision to pay bills and provide for my family. I know You will make a way for me. I believe that with You, nothing is impossible because that's what the Bible says. Thank You in advance for the miracle You will perform today! In Jesus' name, amen.
(Matthew 19:26, Psalm 59:17)
3AM Prayer for Financial Breakthrough
Faithful Father, I come to You at 3am asking for You to provide me with the financial breakthrough I desperately need. Release divine ideas, strategies, and connections to catapult me to a new level of prosperity. Open my eyes to see doors of opportunity and boldly walk through them. Still my fears and cleanse me of all greed or worldly motivations. Prosper me so that I may be generous and shine the light of Christ in all I do. Thank You for waking me to pray through this breakthrough in the mighty name of Jesus, amen!
(Ephesians 3:20, Jeremiah 33:3)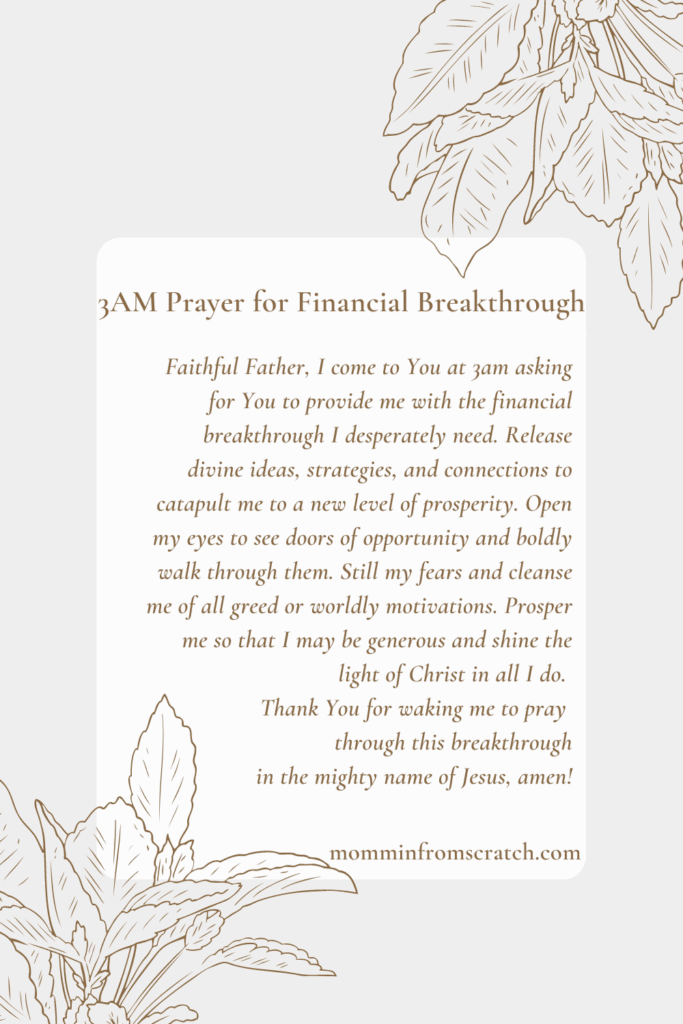 Prayer for Financial Freedom
Heavenly Father, I know you are a generous God and I come to You burdened by financial bondage. Please help me break free and step into the financial freedom You have for me. I know that You will provide my needs according to Your riches. Teach me Your ways of wise stewardship so I can manage money well. Set me free from debt and lack, I pray. I pray that You will open doors for new income and bless the work of my hands. Thank You for leading me on the path of financial freedom and abundance so I can be a blessing. In Jesus' name, amen.
(John 8:36, Deuteronomy 28:12)
Prayer of Financial Breakthrough at Work
Lord, I pray for financial breakthrough in my job and workplace. Cause me to stand out and be elevated for promotions and raises this year. Bless the work of my hands so that it prospers exceedingly. Please help me see working my job as if I am working for You because glory belongs to You. Bring divine favor and influence over my bosses and colleagues so that I am valued. Thank You for abundantly providing through new job opportunities. I know Your plans to prosper me will come to pass, in Jesus' name!
(Psalm 90:17, Jeremiah 29:11)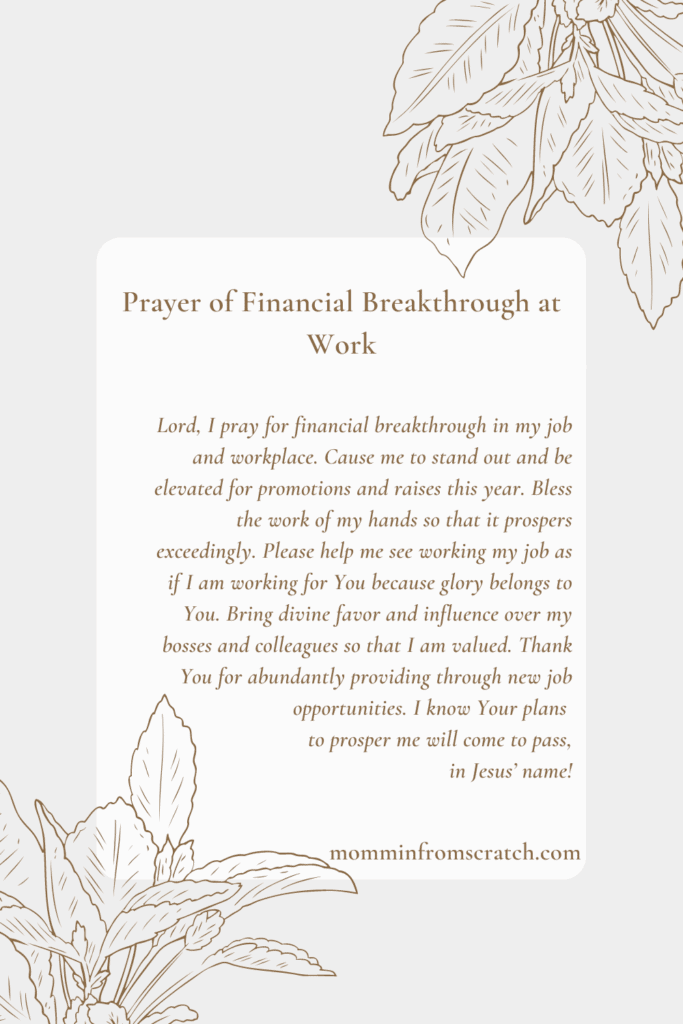 Prayer for Wise Financial Decisions
Heavenly Father, I need Your wisdom and guidance for the financial decisions before me. I want a stable financial life. Teach me to be a good steward of the resources You've given me. Help me make prudent choices that honor You. Show me where to invest, give, and save wisely. Guard my heart against greed and wrong motives. Deliver me from financial temptation or compromising integrity for money. Empower me to manage finances in a way that builds Your kingdom. Thank You for the promise that if I lack wisdom and ask You, You will generously provide it. I receive it now, in Jesus' name. Amen.
(James 1:5, Proverbs 3:5-6, 2 Corinthians 9:6-11)
Prayer for Success in Business
Almighty God, bless the work of my hands and the business You've given me. Help it to succeed far beyond my expectations. Give me wisdom and strategies to grow and flourish. Connect me to godly mentors and partners to sharpen my skills. Protect me from poor decisions. Forgive me for any unethical compromises or pride. Create in me a spirit of excellence so I honor You and bring glory to You in all I do. Make my business a kingdom resource to serve others well for Your glory. Thank You for granting success!
(Psalm 90:17, Proverbs 22:29, Philippians 4:13)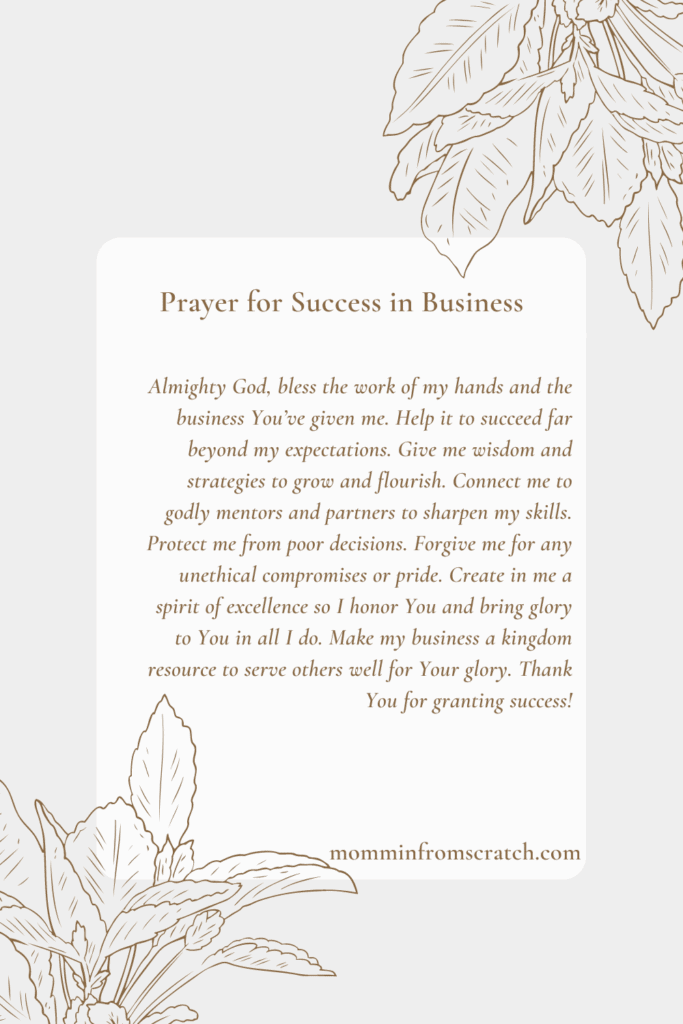 Prayer for Needed Employment
Dear God, I desperately need employment to provide for my family and pay the bills. I ask You today for a good job opportunity You want to give me. Lead me directly to the right hiring manager. Cause my resume and interview to stand out. Give me favor that surpasses qualifications alone. Exceed my expectations with the perfect job and salary I need. Please allow this opportunity to bring glory to You showing that it is a blessing of the Lord. Thank You for opening doors that no man can shut. I believe for divine connections, in Jesus' powerful name. Amen!
(Matthew 7:7-8, Psalm 75:6-7)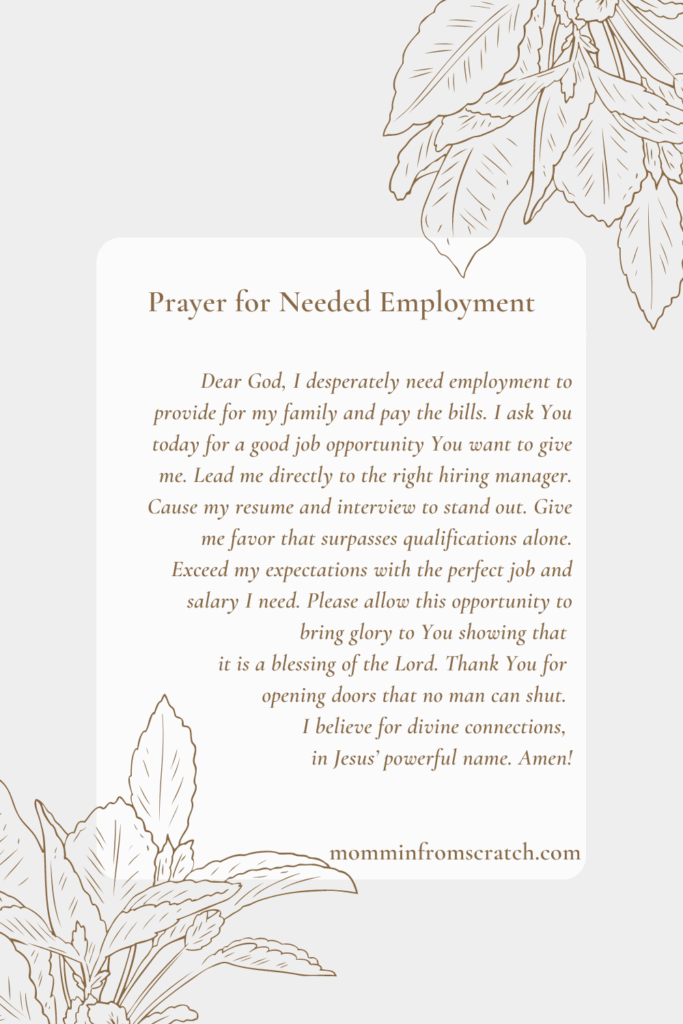 The Benefits of Praying for Financial Breakthrough
Prayer is powerful, and God invites us to come to Him with all of our needs and desires. Despite human efforts and hard work, ultimate prosperity comes from God's hands. By praying for our financial problems and asking for help, we open our hearts to receive God's abundant blessings and resources.
Here are some key benefits of bringing your financial situations to God in prayer:
Receive God's supernatural provision – God can bring financial increase from unexpected sources that defy human logic and effort. Through prayer, you invite divine intervention into your financial status.
Gain wisdom for financial decisions – God promises wisdom to those who ask and call on Him. Prayer helps you make God-guided financial decisions and manage resources wisely.
Overcome fear/anxiety over finances – Bringing your worries and stress to God in prayer allows His perfect peace to guard your heart and mind. Prayer replaces financial fear with faith.
Align finances with godly purposes – Praying for financial blessings helps you steward resources in line with your highest calling. Money allows you to generously support kingdom work.
Foster gratitude and humility – Prayer keeps your heart humble and grateful, preventing greed or ego from creeping in during seasons of prosperity.
As you pray consistently, your mindset shifts from lack to abundance. You gain a kingdom perspective on finances, finding security in God's limitless supply rather than worldly wealth.
Understanding the Power of Prayer for Financial Blessings
Bringing your financial needs and desires to God in prayer is powerful for many reasons:
God Hears and Answers Prayer
God promises to hear and answer our prayers when we call on Him. 1 John 5:14-15 assures, "This is the confidence we have in approaching God: that if we ask anything according to his will, he hears us. And if we know that he hears us—whatever we ask—we know that we have what we asked of him." When you bring your financial struggles to God in faith-filled prayer, you can trust He hears you and will answer!
Philippians 4:19 says "And my God will give you everything you need because of His great riches in Christ Jesus." The word of God shows us that if financial help is what we need, God will provide.
All Things Are Possible with God
While financial increase may seem impossible based on your circumstances, Scripture reminds us that with God, nothing is impossible. Luke 1:37 affirms, "For no word from God will ever fail." Release your limited human perceptions of what's possible, and let your faith arise! God can do the unimaginable if you believe.
God Owns It All
God owns the cattle on a thousand hills (Psalm 50:10) and holds the wealth of the world in His hands. When you understand God's unlimited abundance and provision, you recognize finances are not limited to what you can generate or obtain in the natural realm. You gain access to divine resources as His child.
Scripture Commands Us to Ask
God encourages us to come boldly and make our requests known to Him. James 4:2 explains, "You do not have because you do not ask God." Keep asking, keep seeking, keep knocking (Matthew 7:7). Scripture commands it, so obey with bold, persistent prayer.
Use any of the prayers for a financial breakthrough above to pray now, or craft your own prayer below.
As you pray for financial breakthrough, do so with confident expectation in God's ability and willingness to provide. He is unlimited in power and resources.
Bible Stories of Powerful Prayers for Financial Blessing
Scripture contains many examples of miraculous financial provision in response to prayer and faith. Let these stories stir your faith that God can also bring abundance in your life today!
Elijah's Prayer for Provision in 1 Kings 17 – When Elijah prayed for drought in obedience to God's direction, God supernaturally provided for him by having ravens bring bread and meat twice a day. God also miraculously ensured a jar of flour and jug of oil never ran out, providing food for Elijah daily. This demonstrates God's care and ability to provide abundantly, even in the midst of hardship.
Elisha and the Widow's Oil in 2 Kings 4 – A widow was about to lose her sons to slavery to pay off debts. In response to Elisha's instructions, she gathered many jars, shut the door, and began pouring the little oil she had into the vessels. God multiplied the oil supernaturally until all jars were filled. She was able to sell the oil and pay her debts in full, with provision to spare.
Jesus Feeds the Five Thousand in Matthew 14 – Jesus took a few loaves and fish and miraculously multiplied it to feed thousands. After eating, the disciples gathered twelve basketfuls of leftovers. Jesus generously provides in abundance beyond what we ask or imagine.
Financial Breakthrough After Pentecost in Acts – The early church experienced remarkable financial provision and abundance after the Holy Spirit was poured out at Pentecost. Those in need were miraculously provided for. God's Spirit brings breakthrough.
See more examples of how prayer works here.
As you pray, remember that the God who did miracles then is the same God who desires to bless you abundantly now! Release your faith.
Customize these prayers to your specific financial needs, while praising God for His generous abundance and unwavering faithfulness.
Powerful Financial Breakthrough Verses
In addition to the prayer points above, the following Bible verses inspire faith and belief for financial breakthrough:
Matthew 6:33 (NIV)
But seek first his kingdom and his righteousness, and all these things will be given to you as well.
Luke 6:38 (NLT)
Give, and you will receive. Your gift will return to you in full—pressed down, shaken together to make room for more, running over, and poured into your lap. The amount you give will determine the amount you get back.
Matthew 7:7-8 (NIV)
Ask and it will be given to you; seek and you will find; knock and the door will be opened to you. For everyone who asks receives; the one who seeks finds; and to the one who knocks, the door will be opened.
2 Corinthians 9:8 (NIV)
And God is able to bless you abundantly, so that in all things at all times, having all that you need, you will abound in every good work.
Philippians 4:19 (NIV)
And my God will meet all your needs according to the riches of his glory in Christ Jesus.
Psalm 37:25 (NIV)
I was young and now I am old, yet I have never seen the righteous forsaken or their children begging bread.
Speak these financial breakthrough Scriptures aloud daily to renew your mind and stir your faith. God's Word is powerful!
How to Pray for a Financial Breakthrough
Praying powerfully for financial blessing requires persisting over time. Here are practical tips:
Set specific times – Dedicate consistent daily prayer time to seek breakthrough and provision. Early morning, 3 am prayers are especially powerful.
Ask boldly and specifically – Clearly request the financial help from God and the provision you need. Don't beat around the bush. We are a culture that sugarcoats our words, but if you read the word of God- everyone asks boldly.
Give thanks – Express gratitude in advance for how God will bless you. Thank Him frequently even before you see change.
Sow seeds – If possible, sow financial seeds into ministries or people in need. Allow generosity to release blessings.
Obey guidance – Follow any instruction God provides, whether to pay off financial debts or give generously.
Worship – Invite God's presence through worship. Breakthrough happens in His presence.
Listen – In prayer, take time to let God speak to you about your finances and steps to freedom.
Persevere in breakthrough prayers. Our job is to pray, plant seeds, and obey God. His job is to bring the harvest in His perfect timing and ways.
Crafting Your Personal Prayers for a Financial Breakthrough
For most powerful results, craft your own personalized prayers for a financial breakthrough. Follow these steps:
1. Open with Worship – Recognize God's presence, praise His abundance, and invite the Holy Spirit. Worship shifts focus to God.
2. Give Thanks – Express gratefulness for current and past financial blessings, and in advance for breakthrough.
3. Confession – Confess any ways you have mismanaged money, indulged greed, or tried to control outcomes. Ask forgiveness.
4. Petition God – Make your specific requests known to God. Ask boldly for the breakthrough you need.
5. Stand on Scripture – Remind God of His financial promises in Scripture as you pray. Quote key verses.
6. Commit to Obedience – Yield every area of finances to God's lordship. Promise to obey His leading.
7. Visualize Breakthrough – Use all your senses to imagine living in financial freedom. See, feel, and give thanks for this as a reality.
8. Intercession – Pray for financial blessing for others in need, ministries, and the kingdom.
9. Gratitude – Close your prayer time with deep gratitude, even before seeing the harvest. Bless the Lord.
Pray your personalized breakthrough prayer daily. God responds to heartfelt sincerity and persistence in prayer. You can trust Him fully with the results and timing.
Overcoming Doubt and Impatience
During seasons of persistent financial struggles, doubt and impatience can sometimes creep in. Here are tips to overcome:
Renew Your Mind with Scripture – Immerse your thoughts in Bible verses about God's faithful provision and abundance. Don't buy into lies of lack or defeat.
Give Thanks for Past Breakthroughs – Recall previous times God brought financial miracles. This builds faith that He will do it again.
Release Control – Surrender results and timing to God. Avoid striving or manipulating outcomes. Rest in His capable hands.
Guard Against Offense – Don't allow hurts, jealousy, or bitterness toward others' prosperity to take root. Rejoice when God blesses someone.
Refuse Fear – Cast down thoughts or nightmares involving financial loss. Stand firm in faith despite circumstance.
Celebrate Small Wins – Rejoice over any step forward, no matter how small. Give thanks for progress.
Keep Sowing – Continue to be generous, give offerings, and invest in kingdom work. Sowing precedes harvest.
Persist in Prayer – Don't lose heart. Breakthrough is near! Consistency in prayer releases God's supernatural abundance.
God's timing is perfect. Trust Him to bring your breakthrough at precisely the right moment. Your persistent prayers and faith will reap a reward!
Praying for Wisdom in Finances
In addition to praying for provision, it is vital to seek God's wisdom for financial decisions. Pray daily for guidance like this:
"Lord, lead me to wise investments and business opportunities"
"Give me discernment over get-rich-quick schemes or risky financial ventures"
"Help me make prudent decisions for my family. Guard me from foolish choices."
"Guide me to manage debt wisely and live within my means."
"Teach me to have a balanced kingdom perspective on finances."
"Show me any needed lifestyle adjustments to walk in financial freedom."
"Help me be undivided in heart, not serving both God and money."
In every decision, lean fully on the Spirit's wisdom. He will lead you on the path of blessing and prosperity when you commit your way to Him.
Maintaining a Grateful Heart
As you earnestly pray and God answers with financial blessing, maintain a heart of gratitude and humility. Success can sometimes lead to pride or complacency if we're not watchful.
Give Thanks Continually – Never take God's financial blessings for granted. Be quick to thank Him for every provision, big or small.
Beware Subtle Idols – Be on guard against money or wealth becoming an idol if finances increase. Keep God first in your heart.
Sow Generously – Look for opportunities to generously share and sow from your financial overflow to serve others.
Mentor Others – Come alongside those now struggling as you once were. Give hope, guidance, and practical support.
Stay Humble – Avoid arrogance or looking down on those with fewer material possessions. Remember where God brought you from.
Use Wealth for Eternal Purposes – Invest finances in ministry, spreading the Gospel, and building God's kingdom.
As God trusts you with greater financial influence and freedom, remain on guard against greed or earthly mindsets. Instead, use every resource He gives to serve others and advance His eternal plans. Focus on the riches of Christ within you, not temporary wealth.
When God blesses you financially, let your overflow become a wellspring to bless nations and change lives. Fund ministry initiatives, feed the poor, support orphanages, dig wells, and spread the Gospel far and wide.
Invest in the eternal stock market of heaven by storing up treasures there, where rust and moth cannot destroy (Matthew 6:19-21). As you seek God first and serve others generously, you can stand before Him one day knowing your time and resources made an eternal impact for good.
May your financial breakthrough lead to radical generosity that leaves a lasting, rippling effect for God's glory.
Overcoming Worldly Wealth and Finding True Riches in Christ Jesus
As God blesses you financially, it can be easy to put more faith in money than in Him. But we must remember that worldly wealth and possessions are temporary, but the riches we have in Christ are eternal.
Understanding True Riches in Glory
The Bible reminds us in Philippians 4:19 that God will supply all our needs "according to His riches in glory in Christ Jesus." This means our true abundant provision comes from heavenly places, not earthly bank accounts. Colossians 1:27 describes these treasures as "Christ in you, the hope of glory."
When we seek God first above all else, prioritizing His kingdom and righteousness, He promises to generously add all that we need (Matthew 6:33). We can rest in perfect peace, contentment and security in Him – no matter our earthly financial status.
Differences Between True Riches and Worldly Riches
There are key differences between the fleeting riches the world offers and lasting riches found only in Christ:
Worldly Riches
Temporary; can disappear instantly
Produce pride and self-sufficiency
Never fully satisfy the longings of the heart
Cannot be taken with us beyond the grave
Not universally accessible to all
Riches in Christ
Eternal riches that moth and rust cannot destroy
Produce humility, gratitude, and generosity
Bring deep joy, contentment, and purpose
Come with us into eternity
Freely accessible to all who believe in Him
Let us not put our hope in money, but in the One who holds true riches – now and forever.
Steps to Take to Receive a Financial Miracle
As you pray persistently for a financial breakthrough, here are practical steps to take:
Give generously – Sow financial seeds in faith, even in times of lack. God will multiply them back.
Pay off debts – Develop a plan to pay off loans and credit cards. Avoid unnecessary debt.
Make a prayer request– Involve your sisters and brothers in Christ in praying for you. See prayer request resources here.
Create a budget – Track income and expenses. Cut unnecessary spending.
Build an emergency fund – Set aside savings to cover unexpected costs.
Diversify income streams – Consider ethical side incomes in addition to your career.
Upgrade skills – Seek training to qualify for career/business advancement.
Consult mentors – Meet with financial mentors and advisors for wisdom and guidance.
Make lifestyle adjustments – Scale back expenses to live within means. Delay major purchases if needed.
Develop multiple income streams – Don't rely on a single income source. Create multiple streams.
As you take practical steps and continue believing in prayer, you position yourself for the financial miracle you need.
Key Takeaways
Bringing your financial struggles and desires to God in persistent prayer is powerful and effective.
Craft personalized breakthrough prayers filled with Scripture, praise, and bold requests.
Add practical financial steps while you wait for God's intervention and timing.
Maintain humility, gratitude, and generosity when God blesses you.
Seek true riches found only in Christ as you prayerfully steward finances.
God delights to bless you abundantly! As you come to Him in obedient, humble prayer and align your life fully with His purposes, breakthrough will surely come. Continue believing for the miracle you need. Scripture promises that with God, nothing is impossible.