Learn the best tips for first time breastfeeding with THIS course
AMAZON AFFILIATE PROGRAM
MomminFromScratch is a participant in the Amazon Services LLC Associates Program along with other affiliate advertising programs designed to provide a means for sites to earn advertising fees by putting links to companies in my blog posts.
The thought of breastfeeding can be overwhelming. And finding the time to make it to a class, or thinking about paying a lactation consultant after birth because it's hard to figure out- is just too much to deal with. I've found the solution that all moms who intend on breastfeeding can use! If you need the best tips for first time breastfeeding, THIS the best online breastfeeding course!
Why take a breastfeeding course online?
Learning before you have your baby will be extremely beneficial for the both of you.
A lot of women are exhausted after birth. And breastfeeding is such a beautiful event after the birth of your child. You can skip the wonder of what will happen and what to do. Instead, you'll be a pro!
This is an online breastfeeding course review for Milkology!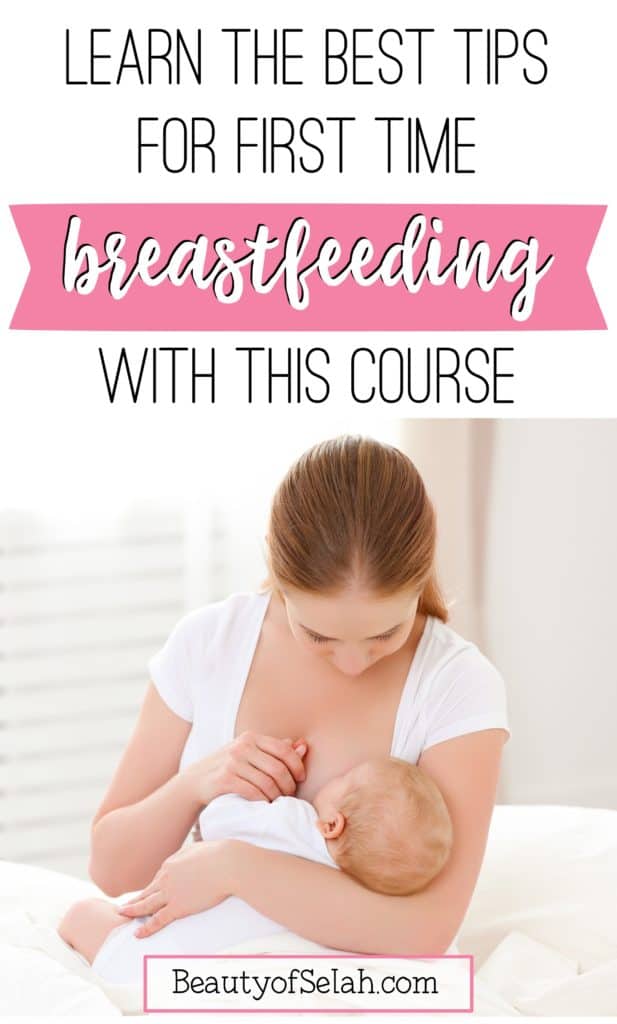 Learn on your own time
Plus, with everything on your plate during your pregnancy, it makes it hard to get out and go to a breastfeeding class. It's time-consuming, but having a course online, you can take your time learning the information.
This will build your confidence in breastfeeding.
It's normal to be nervous about the unknown. No one can tell you exactly what it'll feel like to breastfeed, but this class will answer everything else.
So you can give your best to your baby
Breastfeeding is the best nourishment you can give your little bundle of joy. And I've known so many people that quit because they took their baby home and didn't know what to do.
If you're determined and you learn from this class, I'm sure it will help your success rate with breastfeeding.
Why would I recommend this?
If only.
If only I would have had a resource like this before I had my first child. It's probably what a lot of women could say.
But I know first hand.
When I was pregnant I planned to learn how to have a natural birth and all about breastfeeding from my friend who was a doula. But the day of the first class, her husband was killed in action in Afganistan. Needless to say, I didn't take the classes, and I didn't feel comfortable going elsewhere.
I had my first son, took him home and had no idea what I was doing. I pumped and fed him through a bottle for the first two weeks of his life. Until I sat down and had a conversation with my two-week-old that we were going to try to breastfeed together and not give up.
It was hard, but we did it.
And since then, I've breastfed all three of my children up until right after their first birthdays. And each experience was amazing. I want you to experience that too.
All about the course
This course is jam-packed with amazing information! The course has 5 steps to learning how to breastfeed. She breaks everything down for you in easy and simple videos.
Step 1: Discover the Benefits
In this step, you'll learn:
The Properties of Breast Milk
Benefits for Baby
The Benefits for Mom
Benefits for Family & the World
Step 2: Understand the Process
In this step you'll learn:
Lactation Explained
Master your Milk Supply
Step 3: Learn the Techniques
In this step you'll learn:
Latching and Positioning
Expression and Storage
Step 4: Know what to Expect
In this step you'll learn:
Diaper Output and Weight
The First Month
Month 2 and Beyond
Step 5: Find Support & Get Prepared
In this step you'll learn:
Find your Support Network
Prepare for Success!
BONUSES!!
There are three bonuses that come with this course! They are:
The Ultimate Troubleshooting Guide: Common Breastfeeding Issues
eBook: The Little Black Book of Breastfeeding Secrets
Breastfeeding Milestone Photo Cards
I understand how important it is to give your baby the best you can. And I want you to be as prepared as possible. Because the more prepared you are, the less stress there is for you and your little baby.
How much does it cost?
$27. Yup, that's it!
I looked up the cost of in-person breastfeeding classes across the nation and they cost about $50-120, for set dates. If you miss a class then you have to take another one.
That's why I love the beauty of an online course!
This price is a steal!
For a small investment of $89, you can't go wrong. Skip the hassle of leaving the house and leaving your instructor when you have this at your fingertips for as long as you need.
Related Posts:
The One Tip You Need to Breastfeed Successfully
Have you heard? THIS is the cheapest baby video monitor
13 Proven Ways to Soothe Your Crying Baby + Checklist
How to Mom When it's Not Natural
This Unbelievably Free Gift is the Best for a New Mommy