The 30 Day Marriage Challenge (In 25 Minutes a day)
AMAZON AFFILIATE PROGRAM
MomminFromScratch is a participant in the Amazon Services LLC Associates Program along with other affiliate advertising programs designed to provide a means for sites to earn advertising fees by putting links to companies in my blog posts.
This post is my Marriage 30-day challenge, make sure to scroll to the end for your free printable!
What's the difference between a happy marriage and one that ends up looking like two roommates instead of two people in love?
The time they spend actively working towards bettering their marriage.
It isn't necessary to stop everything you're doing and pour every last ounce of energy you have into your marriage.
But can you make time for 25 minutes a day?
That's less time than it takes to watch a show on TV.
The Marriage Challenge that takes 25 Minutes a Day
If you can commit to 25 minutes a day focusing on spending quality time with your spouse it can greatly impact the health of your marriage!
I've compiled a list of marriage builders that take roughly 25 minutes a day.
If this causes deeper conversations or more effortless marriage time then, by all means, throw the clock away!
At the end of this post, I've created a Marriage 30 Day Challenge Printable Calendar for you to fill in!
1. Ask your Spouse These 5 Questions
As a kickstarter, I've compiled a list of 5 Questions to ask your spouse for some immediate improvement!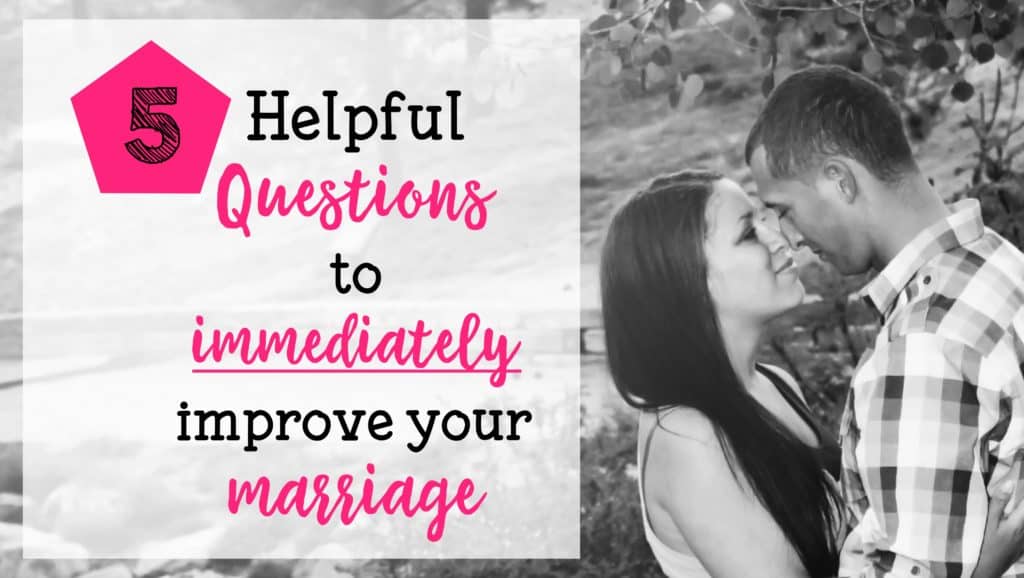 These questions shouldn't take more than 25 minutes to finish and they are meant to quickly find out areas that your marriage can improve!
2. Start a devotional with your spouse to better your marriage
I know it may sound odd, but my husband and I have been reading the same devotional for the last ten years. We love it that much. It makes us think of things we've never considered and sheds light on God's purpose for our marriage.
This is our favorite devotional.
Here are some more I recommend:
3. Read a book with your spouse
Do you both love to read? Why not read a book that will lead you toward a better marriage?
I've written a post here that is full of godly Christian marriage books broken down by category:
If one of you doesn't like to read, see if the book you want to read is on audible! That way you can both sit down and listen to it instead.
There is so much incredible wisdom other there from couples who have gone before you, struggled with your struggles and figured out solutions.
Books are a wealth of knowledge for any subject, but they seem to be passed over in marriage. I can tell you- they are totally worth your time.
4. Listen to a Marriage Podcast
I've compiled a HUGE list of Christian podcasts here. They are broken down by category with a table of contents at the top so you can easily see the marriage podcasts!
Maybe all the time you have with your spouse is while traveling in the car, this is a perfect option for you.
What I love about podcasts are the wide range of topics they cover and I've made sure to only include the best ones inside the post above.
5. Go on a date with your spouse
When was the last time you made time for just you and your spouse?
What do you like to do? Make a plan and head out.
If going out isn't an option here are some fun at-home date night ideas:
6. Try out these Marriage Communication Cards
Perfect for a date night or just a 25 minute time slot!
These conversation starter cards are specifically designed to help build deeper communication with your spouse.
Over 100 Cards
3 Bonus Games
Bonus cards for couples with children & couples who want children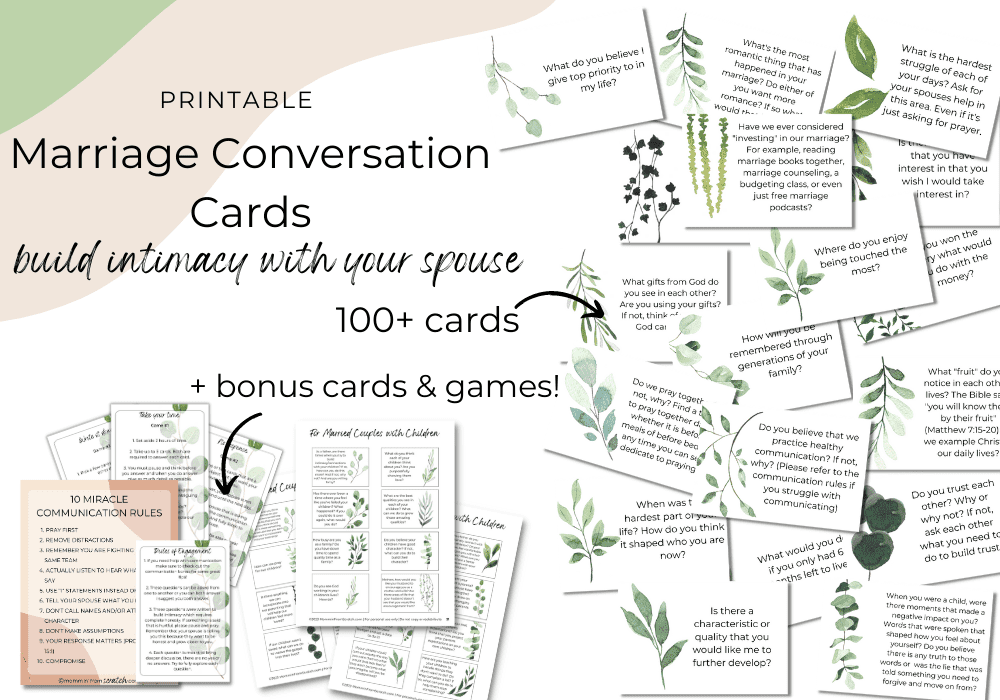 7. Play a game with your spouse
I'm not talking about monopoly. Let's try to stay away from games that cause division and fights.
I'm talking about games that help build up your marriage.
Check out these games here from Amazon:
8. Practice each other's Love Language
If you've never heard of love languages then you are in for a life change! (If you haven't heard of this you can grab the book The Five Love Languages here on Amazon.)
Learning your spouse's love language is critical in learning how to love each other.
If you don't know your spouse's love language, spend some time taking the Love Language Quiz here.
Here are a breakdown of the love languages and some ideas to implement them:
Words of Affirmation

Give compliments to your spouse
Write them a love letter
Tell them thank you whenever they do something for you

Quality Time

Anything on this list would count as quality time
Go on a date together
Take a walk together

Physical Touch

Give your spouse a massage
Hold their hand when your walking
The obvious- have sex.

Acts of Service

Do some chores around the house
Are you handy? Fix something for your spouse or make them something
Look for a burden that your spouse is carrying, and carry it for them.

Receiving Gifts

Buy a gift for your spouse outside of a holiday
You don't always have to buy something, you can also make something even a card.
Look on Pinterest for a gift guide for the types of things your spouse likes!
Marriage Resources:
Need help in your marriage? You can check out My FREE Marriage Revival Course! Take 5 days to pour into your marriage together and finish with new hope!
Ignite deeper conversations with your spouse, transform your intimacy and strengthen your bond with my Conversation Starter Cards
If you need counseling but don't want to go to a counselor try out Marriage Fitness as an alternative to traditional counseling.
If you or your spouse struggle with an addiction to porn Covenant Eyes is an amazing resource to stop addiction in its tracks.
If you want books for any area or topic of your marriage you can check out the Christian Marriage Books I Recommend 
9. Find a new hobby to do… together
Is there something that you both like to do?
If your answer is no, maybe you just haven't found it yet.
Maybe you both hate cooking but you've never tried baking together, maybe you've never gone on a hike together or taken a couples dancing class.
Whatever it is, there's something out there that I bet you both can find joy in and enjoy together
Check out this list of 79 Hobbies to Do with your Spouse.
10. Sign up for the Free Marriage Course
Need to press the reset button so that you can start fresh?
I have a free 5-Day Marriage Revival course for you to do with your spouse!
Learn how to:
Lay a new foundation
Add the third cord
Learn to love each other the right way
Make your marriage a priority
Make a new pact
Sign up here:
Grab the Printable Calendar!
Sign up to grab your FREE 25 Minute Marriage 30 Day Challenge Calendar!
Don't forget to PIN this to your favorite Pinterest board: