Have you heard? THIS is the cheapest baby video monitor
AMAZON AFFILIATE PROGRAM
MomminFromScratch is a participant in the Amazon Services LLC Associates Program along with other affiliate advertising programs designed to provide a means for sites to earn advertising fees by putting links to companies in my blog posts.
Want to know if your baby is actually sleeping? Or if your toddler is out of bed? Maybe even speak to them from the comfort of your room, living room or restaurant while your babysitter is watching them? I have found the CHEAPEST baby video monitor that can do all of that! And the best part? It's not even a baby monitor. It's a security camera. Which makes it even CHEAPER.
If your curious or in a rush: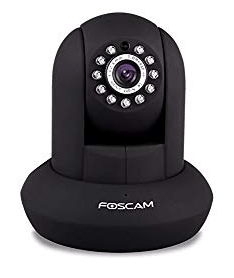 Why is this the best baby video monitor?
I have used this with all three of my children. And one of my favorite features is being able to record and take pictures but let me tell you about ALL of its features!
It is the CHEAPEST baby video monitor
First, because it's a security camera and not marketed as a video baby monitor it is CHEAP. Ordinarily, if you buy a video baby monitor it'll run you $100-$200. This Foscam Home Security Camera is a fraction of that price. Making it the best inexpensive video baby monitor.
It is a WIFI baby monitor.
Instead of finding where you put your baby monitor, which I did countless times before I switched to this, you can view the camera from your phone. Not only when you're in your house, but also when you leave. So say you hire a babysitter. The baby is supposed to be in bed by 7:30, you can check on the baby while you're out. It's the best baby monitor with wifi.
This baby monitor records pictures and video WITH sound.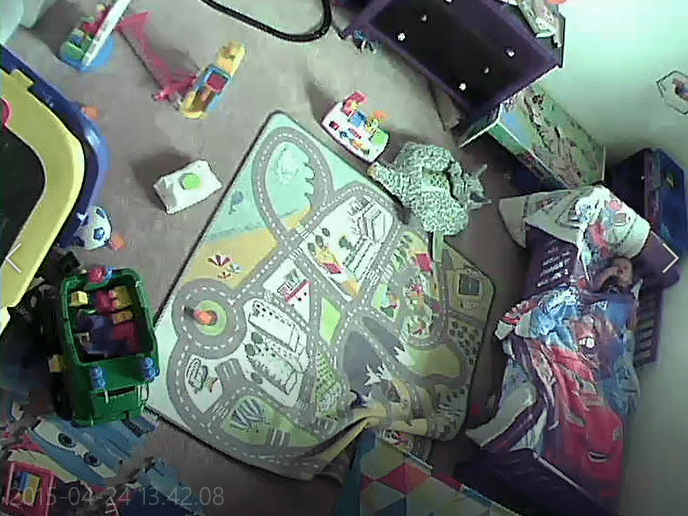 A few years ago, my best friend came to visit and our sons slept in the same room. Even though they were SUPPOSED to be sleeping, they kept getting up and playing music on a toy to dance. I recorded it and it's one of my favorite videos to date. When my first son was just a little baby I used to take pictures of how he slept with his little booty up in the air and his hands tucked under his belly. Because it was the cutest. I mean, videos and pictures on the best cheap baby monitor? I'll take it!
It has night vision, yet it's still the cheapest baby video monitor
Even with the lights off, you can see everything that's going on. And even take videos in night vision mode, which happens automatically when it's dark.
Extra security.
Have you heard of people breaking into baby monitor channels and watching other people's babies? I've seen the horror stories. Baby monitors, while they are great, most don't have protection from crazy people who want to peep at unsuspecting families. Because this is a security camera, you can change the IP address to anything you want making it very difficult for someone to hack.
You can talk through it.
Ok call me crazy, but when I was SUPER tired on some nights, I would press the button to talk and sing my babies back to sleep. From my room. In my bed. And it worked. No, I'm not guaranteeing that will work for your baby. But the sounds of mommies voice can be powerful. Not just for babies, but also for toddlers who like to get out of their beds. You can tell them to go back to bed from your couch.
Side note- when my oldest was under two this camera saved us from a small catastrophe. He wasn't supposed to be awake yet. I was downstairs and heard him move around upstairs in his room. When I grabbed my phone and saw he was taking off his POOPY diaper. I talked through the monitor as I ran up the stairs and told him to stop! If you've ever had a "child-gets-in-diaper-and-smears-poop-everywhere" situation, you know what I avoided haha!
It alerts you to movement
I never used this feature. But if you want to know when baby or toddler is moving around and awake it will alert you. This is a Foscam Home Security Camera feature (to alert of theft or break ins) that can double as a "is my baby awake" feature.
It moves.
Yeah, that's right! I put mine in the top corner of the ceiling. And when my boys get up and run around, I can move the camera and see what they're doing. And tell them to get back in bed.
You can mount it.
Speaking of where I put mine. It's easily mountable. Anywhere.
How much does this amazing cheap best video monitor COST?
Less than $60. Tell me where you can find a baby monitor with ALL these features with the same price point and I'll be shocked.
Buying tip: If you see this price for the Foscam Home Security Camera at less than $60 it is a GREAT deal!
Conclusion
Why pay hundreds of dollars because the word "baby" is added to a video monitor? You can have all the same features, plus some for a fraction of the price with this Foscam Home Security Camera! It is hands down the best baby monitor 2018.
I'd love to know if you purchase this how it's working for you!
Related Posts:
13 Proven Ways to Soothe a Crying Baby
The One Tip you need to Breastfeed Successfully
How to Mom when it's not Natural
This Unbelievably Free Gift is the best for a New Mommy