The 20+ Best FREE Blogging Courses
Looking to gain some knowledge for blogging but don't have a budget? This post is full of the best FREE blogging courses that you can take right now!
My top favorite FREE blogging courses
Here are my top free courses for blogging that I suggest you get right away!
Free Beginner Blogging Courses
Free Start a Blog Course by Carly Campbell from Mommy on Purpose. Learn how to start a blog from one of my favorite successful bloggers! You can count on her to steer you in the right direction! This free blogging course is the perfect place to start.
Start a Blog to Biz Course by Meera Kothand which is a blogging for beginners course free of charge!
Profitable Blogging Roadmap by Tracie Fobes
Tracie is an amazing blogger who is super helpful. I've watched her from afar and she seems to be one of the most genuinely helpful bloggers out there!
Learn how to:
Decide your Niche
Name your Blog
Set up your Site
Design & Layout
Set up your site with Google
Take your Blog to the Next Level
The Blog Plan by Suzi Whitford from Startamomblog
This is for mamas who are starting a mom blog! For beginner bloggers who want to make a plan to become amazing bloggers!
Free Productivity Courses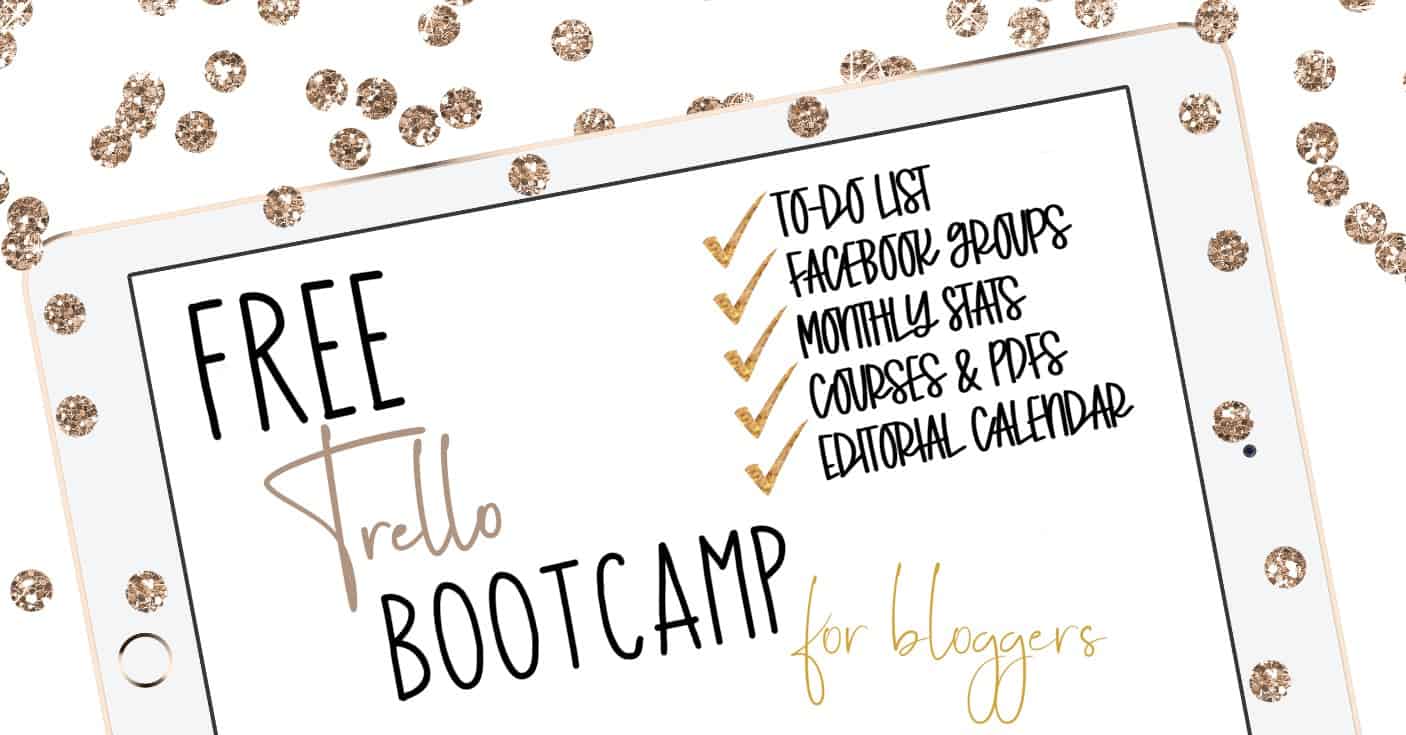 Learn how to organize:
Your To-Do List -organize your to-do list for maximum productivity
Facebook Groups -organize your Facebook Groups to schedule social sharing & find the most valuable ones
Monthly Stats -track all your stats- your income, page views, etc and learn how to compare them month to month.
Courses & PDFs -want to organize and access all the courses and PDFs you have? Including the ones you find in this post? Learn how to do it in Trello!
Editorial Calendar -create an editorial that is sure to keep you productive in Trello!
Free SEO Courses
How To Scale Your Traffic With SEO So You Can Make More Money Blogging by Mike Pearson
Mike is one of my favorite course creators and when he makes a course- he OVER delivers. He created my favorite ever paid course Stupid Simple SEO and this course will have you get so many good tips it'll be hard to not want more!
Free SEO Email Course by Debbie Gartner
Debbie is amazing at SEO and I love her approach! This course covers 10 myths and mistakes newer bloggers make and how to avoid them!
Free Email Courses
How to Create an Emailing Marketing Strategy you'll Actually Stick To by Meera Kothand
Meera is my all-time fave email marketing guru! Her Profitable Email System Course is the cream of the crop best ever email marketing course for your business. And she gives SO much value in her courses you won't be disappointed!
List Love Introduction to List Building by Jennifer Maker
Jennifer is a rockstar at email content and I took this course when I first began blogging and learned so much! Learn how to start your email list with this free course!
RELATED: The BEST 50+ Blogging Tools
Free Branding & Graphic Design Courses
Graphic Design Mini Course by AppleCart Lane
I took this free online blogging course for graphic design when I realized how awful my pin design was. And this course changed my Pinterest life! The tips she gives in this free course are incredible!
How to Use PicMonkey as a Mom Blogger by Suzi Whitford from Startamomblog
Learn how to use PicMonkey through this online training to create things like a coloring book, adding your logo, removing the background of the pic etc.
Free Traffic & Monetization Courses
3 Powerful Strategies to Get More Traffic with Fewer Posts by Kelly Holmes from Sticky Blogging
Sticky Blogging is one of my all-time favorite copywriting courses. Don't know how to write to draw your readers in and KEEP them reading? Kelly is your girl.
This free course teaches you:
How to come up with irresistible headlines
The magic ingredient to get readers to share your content
Convert your reader to a loyal fan
Sponsored Success Incubator by Tracie Fobes
Want to learn how to do sponsored posts? In her free email course she'll teach you:
How to find sponsors
How to pitch yourself
How to price your offer
RELATED: Recommended Blogging Resources
Free Pinterest Courses
Free Pin Template Starter Kit by Carly Campbell
Need a push for some traffic? Carly gives away:
7 pin templates for Canva
5 pin templates PicMonkey
2 training videos (one for each platform)
Her perfect pins checklist +more!
Pinterest Primer by McKinzie Bean from MomsMakeCents
I remember taking this free Pinterest course when I first started blogging, it really helped me learn my way around Pinterest and set up my business profile.
Free Blogging Tech Courses
Understanding WordPress by iMark Interactive
Grayson Bell made this course, if you haven't heard of him he's an amazing tech guru that can do ANYTHING for your site. I've had to hire him a couple of times to fix some of my site issues, he also does monthly WordPress support plans and so much more. If you're going to learn about WordPress, I couldn't recommend anyone better.
Free Affiliate Marketing Courses
Free 5-Day Affiliate Marketing Course by Leanne Scott
Take the next 5 days to take this course and find out all about affiliate marketing! Leanne created one of my favorite affiliate resources the VIP Affiliate Superstar Toolkit and I was blown away with her course!
Learn:
What products to promote
What posts to write to see conversions
Which products to promote on Pinterest
Have an action plan
Need a space to organize all these free courses? Check out my free Trello Bootcamp where I'll show you how to organize and access all of your courses from Trello on Day 4!